Creative Ideas of Wood Pallets Recycling
Fill your surroundings with the captivating and impressive shades of nature by decorating it with useful ideas of wood pallet recycling in a very economical way and at your ease. We help you making your area filled with functional and fascinating crafts that solve your home decor as well as space saving and storage problems in very accessible ways. Do not let your woods be a part of your garbage area instead utilize them in some useful purposes by recycling them in different shapes and structure.
Another grand project of wood pallet recycling that will not only serve you in terms of its utility but will be providing a very classy view of the are where placed. The wood pallets are very artistically joined together to produce this marvelous pallet plus cable reel chair to serve you in decorating your room.

Here comes the brilliant and fascinating idea decorating your entrance. It is a very useful furniture with simple and plain idea along with practical purpose to be placed to the opening of your living area. It serves for the hanging purpose of your coat or cap later required to go outside. Along with hanging purpose it is a wall shelve providing ample space to place any object or item.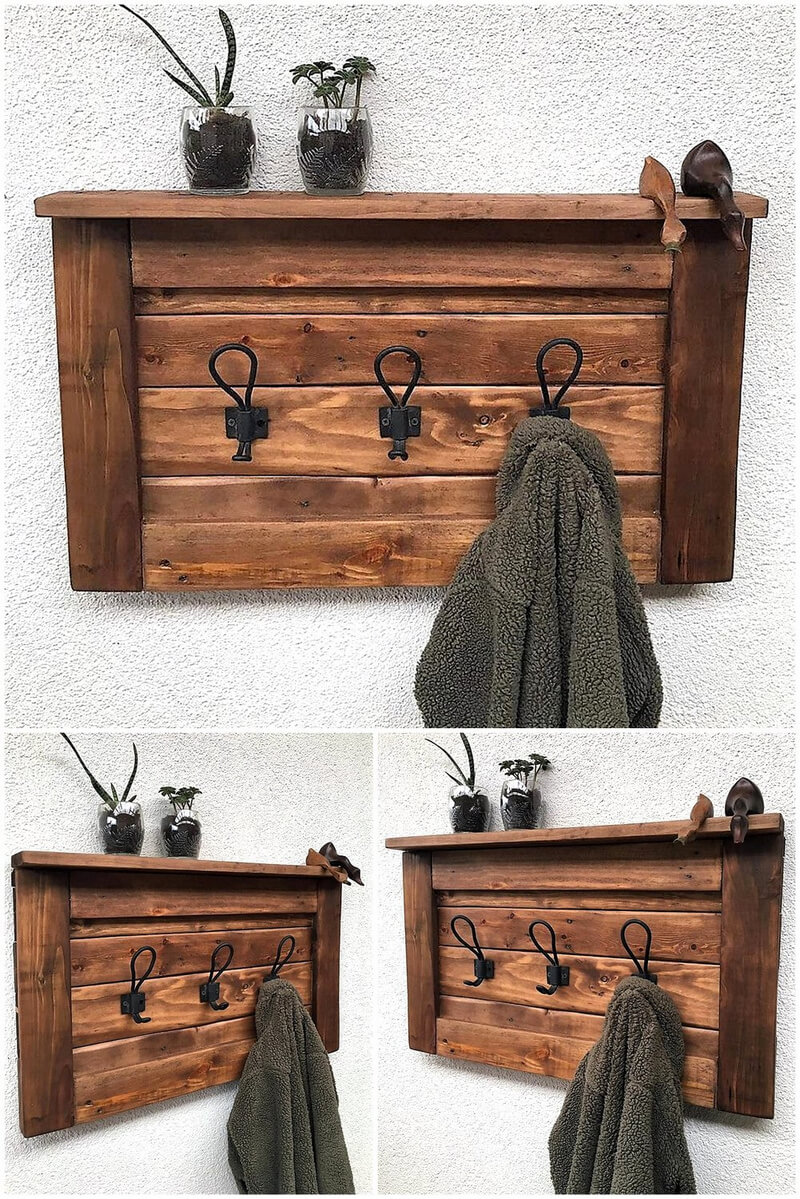 Outward gathering needs much space for the seating purposes for your dear ones. Here comes the very useful idea that not only provides you enough seating but gives your garden a refreshing look through its energizing and unique looks. You can place soft cushions on the seats as well for your comfort that when not needed can later be stored in the underneath left space between the pallets.

Construct a garden table through fruit crates often being thrown in the dustbins. Recycling wood pallets into useful crafts satisfy your needs and fill your spaces giving them a captivating and natural sight. It is a movable wood pallet table that can be moved to any place where needed.

Another marvelous project to fill your garden with amazing recycled wood pallets. These reused wood pallets ideas provide you an opportunity to spend your leisure time in your garden sitting on such a synthetic and relaxing chair with long back and high handle support. The wooden table in front of it is completing the whole idea with its presence. Craft this furniture for excellent decor of your garden.

A brilliant idea to be complemented and implemented to serve as a solution to your space saving problems. This brilliant reshaped wood pallet indoor bar with lots of shelves and cabinets provides ample space to place your beverages. Its worth is enhanced due to its rustic and classy look hence making it a perfect indoor bar.

This giant project for your rooms setting is a multipurpose craft providing storage space and serving as the dressing table as well. The excellently designed reused wood pallet mirror idea is a very functional product. It serves for your storage needs as it is having shelves and cabinets in it.

Here we go providing you another functional and synthetic furniture idea in the form of sun loungers. These reclaimed wood pallet sun loungers look perfect for their utility purposes. A very relaxing furniture  can be used  for enjoying the summer season outside.  So get started for constructing such a useful craft in a easy and economical way.

Another functional project of great use to be complemented and implemented for your home decor that not only serve you as a solution to your daily space saving and storage problems but adds beauty to your area as well. This recycled wood pallet t.v. stand is a very simple yet decent piece of art providing ample storage space in the form of  shelves being constructed in it. It is a plain furniture with unique looks and functional value.
It is an appreciable craft project to be implemented if you are suffering from shortage of kitchen area. This tiny reused wood pallet sink serves performing multiple tasks for your ease by storing kitchen items in its shelves and by solving your space saving problem through its little size. This little package contains great functionality hence making it a best craft for your kitchen.

Here we go to present you with a superb idea of creating a reused wood pallet counter for your working place. Its functional value can be seen through its wide area providing wide range of storage options in the form of shelves on the inner side of this counter. It provides large area to the receptionists to stand behind it and deal with the clients. it provides comfortable environment in the area.
Another beneficial idea is being presented here to solve your problems regarding seating arrangements and home decor. The idea given below is one of the best way of making your life easy and comfortable through recycling the retired wood pallets into these wood pallet sofa and table. The stacked wood pallets are very geniously joined together to give birth to this marvelous craft of high functional and synthetic value.
Make your area look different and unique through recycled wood pallet crafts being given a new and exceptional shape through a useful activity of recycling them. The multi colored theme of the wooden bench is making the whole area to look colorful. Its a best idea to be implemented to enhance the beauty of your garden or your kid's room as well. It is a useful craft of great functional value.
A great idea being presented here whose presence will create a soothing and natural environment in your room. This re-transformed wood pallet head-bored will give your room an alluring look through its rustic look. Its worth is increased by its simple and plain beauty along with its functionality. This head-bored is providing attached night-stands with a unique look. It contains shelves providing storing space. Hence all the qualities are making it a perfect and useful furniture.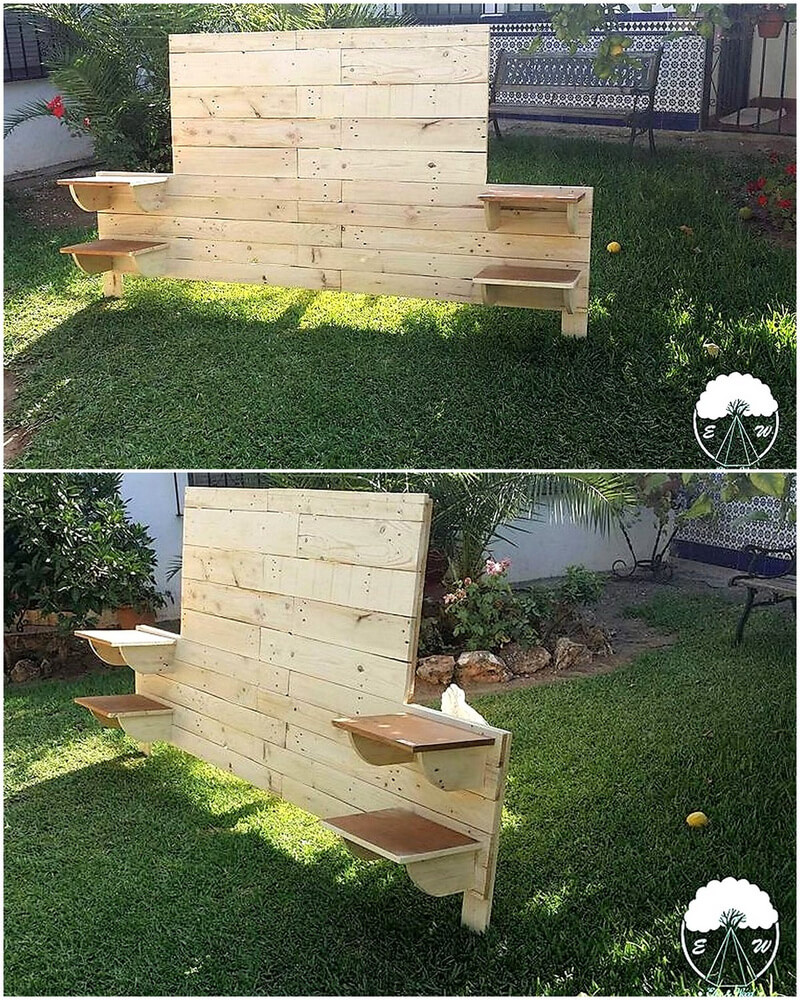 Create a play-land for your kid's fun time at your own garden place. It will give your kid an easy place to play and lots of fun at home. It is a reliable product that offers maximum functional as well as synthetic value. Your kid needs a place where he/she can have free fun time enjoying with its fellows and you can fulfill this wish by creating such useful wooden play land.
Here we go with another amazing and wonderful idea to make your surroundings functional and synthetic. This reused wood pallet kitchen furniture fills your home with a natural feel and rustic look. The whole kitchen solves your storage and serving problems in the form of lots of cabinets and shelves. The black bored being framed in the wooden pallets square offers a space to write or paste your weekly meal menu. In short the kitchen environment will be turned into a useful area.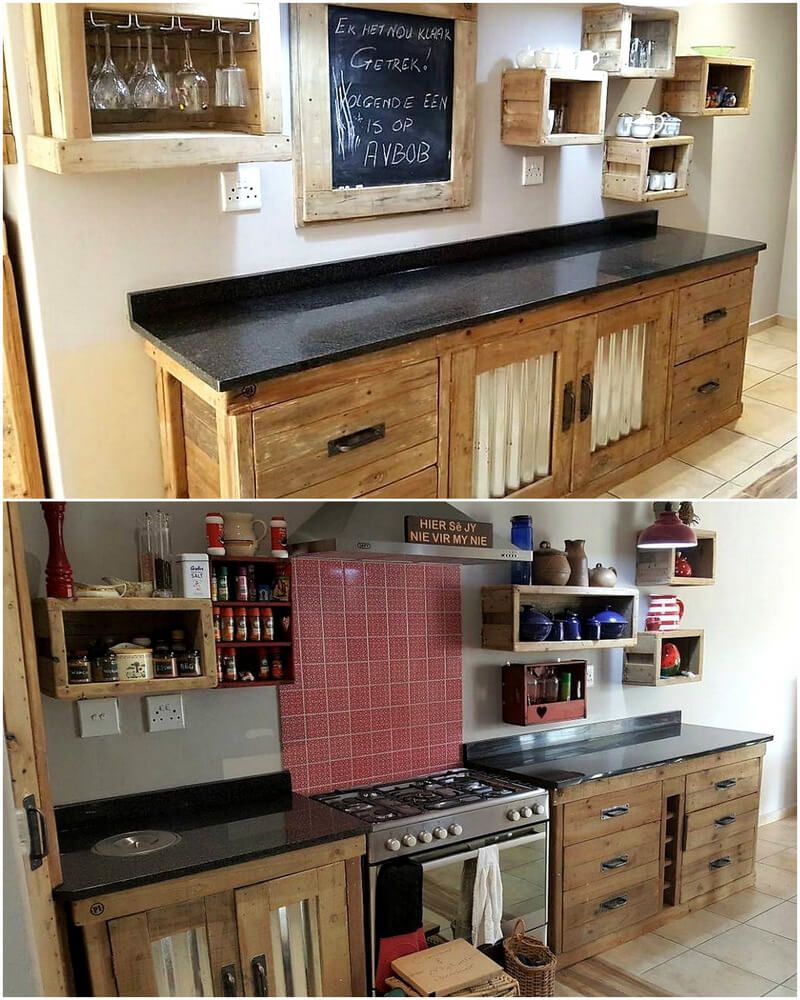 Here a step by step guide is being presented to give your dog a comfortable and synthetic sleeping bed. Firstly, the pallets are beautifully cut in equal length and width. secondly, these pallets are joined together to give rectangular base for the dog bed. Thirdly, little wood pallets are attached to the base to create a wall around that bed area. The last step towards the completion of this craft needs the placement of a smooth and comfortable cushion on the bed so that the dog may get a relaxed sleep.
Now kids don't need to go outside parks for enjoyment and fun because here we are to present you with a wonderful idea of creating wood pallet fun area for your kid at your home. This reused wood pallet kid fun house can be constructed in a very easy , economical and convenient way. It solves your problems regarding your kids entertainment issues.
Your pet also needs a place where it can feel home like. Make your pet the owner of its house by crafting a chicken house by recycling retired wood pallets. The windows in the chicken house saves them from suffocation. It is a great idea to provide your pet a separate place for living .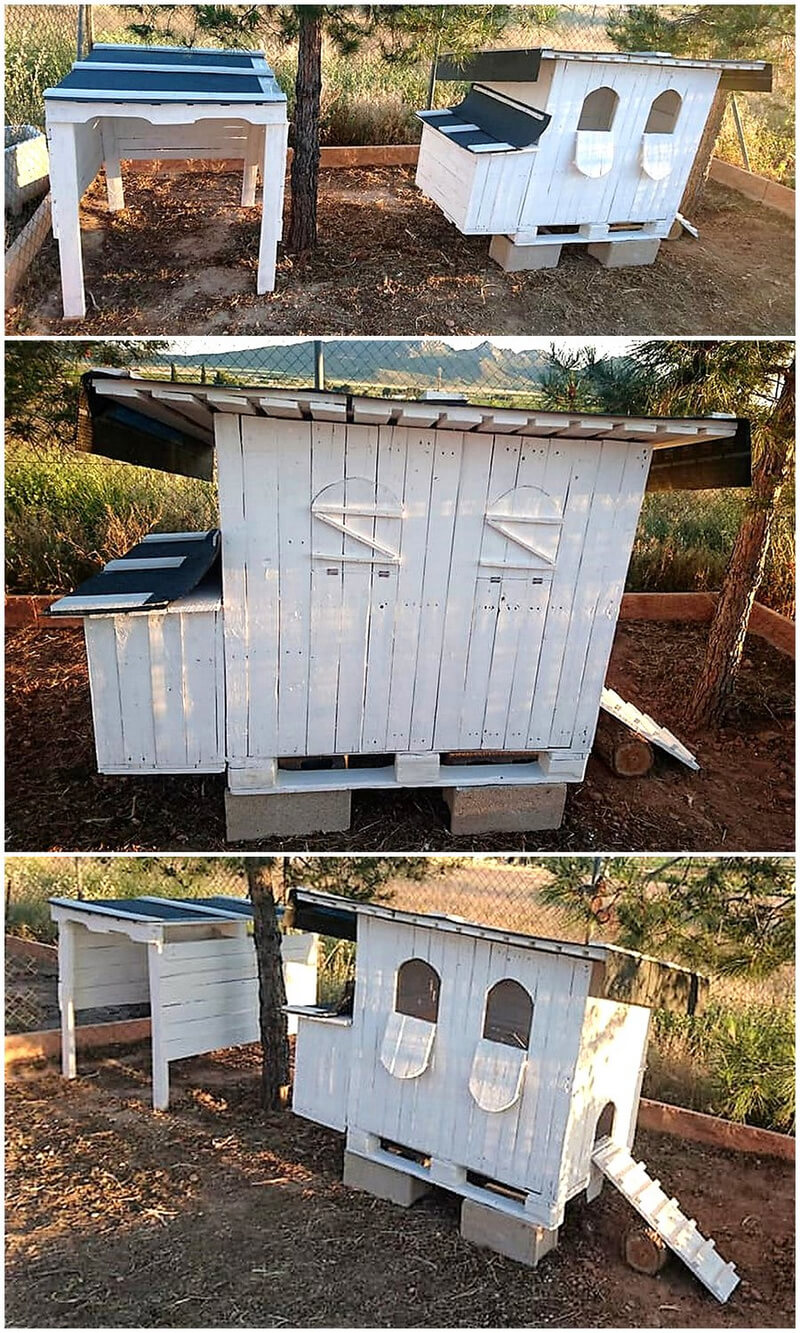 The amazing planter idea will garnish the beauty of your garden by its natural look and functional value. This wooden pallet planter has a unique structure that offers large space for the accommodation of the plants. Construct these wonderful planters in different sizes and shapes, color them and here you go to make your garden look alluring and attractive with simple and plain beauty.
Re-transformed wood pallet patio table with drawer is presented to exhibit its sheer class. We are always in need of a coffee table and what makes it more desirable is this economical craft that provides you complete authority to practice your imagination. This classic table gives your environment a rustic and organic flavor.
Another regular furniture of our necessity is presented below for your review. This recycled wood pallet garden lounge offers a great design and pattern with its zig-zag pattern benches accommodating a triangle shaped table. This is giving your garden a modern look. The rough surface of the furniture provides you with great peace of mind from environmental damages.
This up-cycled wood pallet storage cabinets offers you a lot of storage space for your varied kind of stuff. The upper open cabinet offers you to hang your fabrics and the cabinets below are accommodated to meet your storage need with your small stuff.
Below is a beautiful re-transformed wood pallet kids playhouse. This amazing craft offers your kids to have some healthy time outside the covered area. Your baby girls would love this pink and white theme of the wood pallet playhouse. We have purposefully kept it ventilated by giving it plenty of windows.
The rehashed wood pallet planter stand is a craft of amazing skills that allow you plenty of space to grow plants in a little space. The stand looks beautiful with its elevated design offering three plotters in each row in the total of three rows.
Ever imagined these retired wood pallets to be re-transformed into something of that much beauty. Sometimes you enjoy partying with your family at home and the idea is well crafted to implement your desired theme with this re-purposed wood pallet smart bar. We need fewer wood pallets with little time and skills to craft this class.
This DIY wood pallet bed frame is constructed with little skills at your own workshop. The frame is simple but big and a center support is offered to join your smaller wood pallets on both sides of this center frame. The headlong is joined at the end of the process to complete this amazing utility.
This refurbished wood pallet double side seat idea is amazing for your office where your one compact furniture item is accommodating four persons. The two seats are offered sharing the same back to let this idea work. The artistic skills are applied to exhibit your aesthetic sense in true manner here.
Showcase your precious jewelry and ornaments in your customized design by crafting this amazing reshaped wood pallet jewelry display box. It provides you an additional decor utility by offering to display your beautiful jewelry items. The point here is that to make this jewelry display box we need very few wood pallets with a little time and skills.
This wooden pallet patio corner couch plan offers you to utilize your unused corner space to some effect by offering it a classic design and purposeful utility. This couch is not only classic but also quite comfortable with wide seats and a table. You can use it to celebrate your parties or have some good time with your friends and family.
This re-purposed wood pallet bed has been designed in a simple manner with offering a foundation to lay down your mattress along with two side table. This frame is constructed with a simple pattern by joining the wood pallets to the frame. The headlong has been kept very simple as well.
We offered tables of variety of designs but never came up with multipurpose craft. This table is also serving your storage needs by offering few drawers to the sides of it. Place it where you use the table frequently because its hard to move with its weight of extra drawers.
An exceptional project ready to provide you a trendy and unique sitting arrangement. This elegant wooden pallet couch helps you out in beautiful interior designing. Along with providing enough seating, it also provides serving arrangement in the form of attached table. This undressed and rough wood is looking alluring even when its not given a complete look.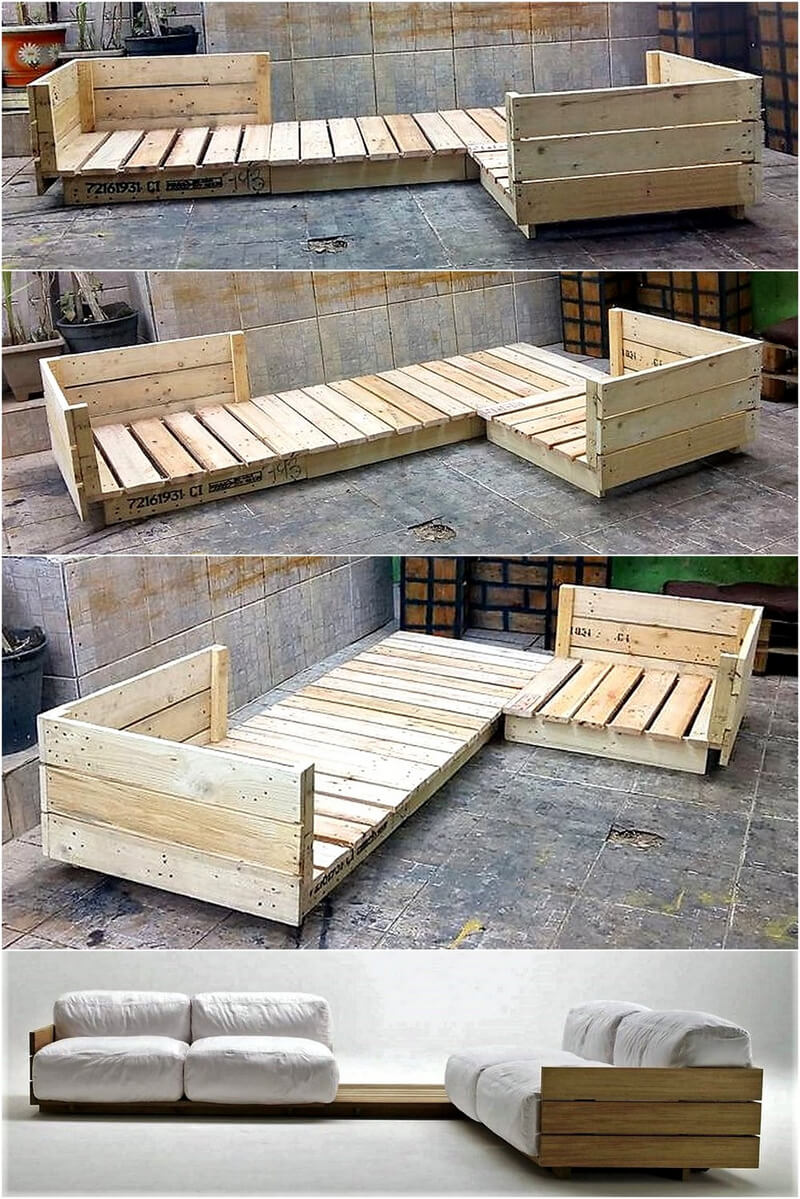 Another great idea to be used for fascinating interior or outdoor decor. Now a days recycled wooden pallets are purposefully used to enhance the beauty of work place or house. A perfect way to create a natural and organic environment around you is to recycle wood pallets into wooden wall art.
Look forward to give your house a delicate and nice entrance by recycled wooden pallets. This entrance table providing ample space to accommodate different items decorate your home's entryway through its simple and plain beauty. You can place decoration pieces or picture frames that will enhance its captivating power.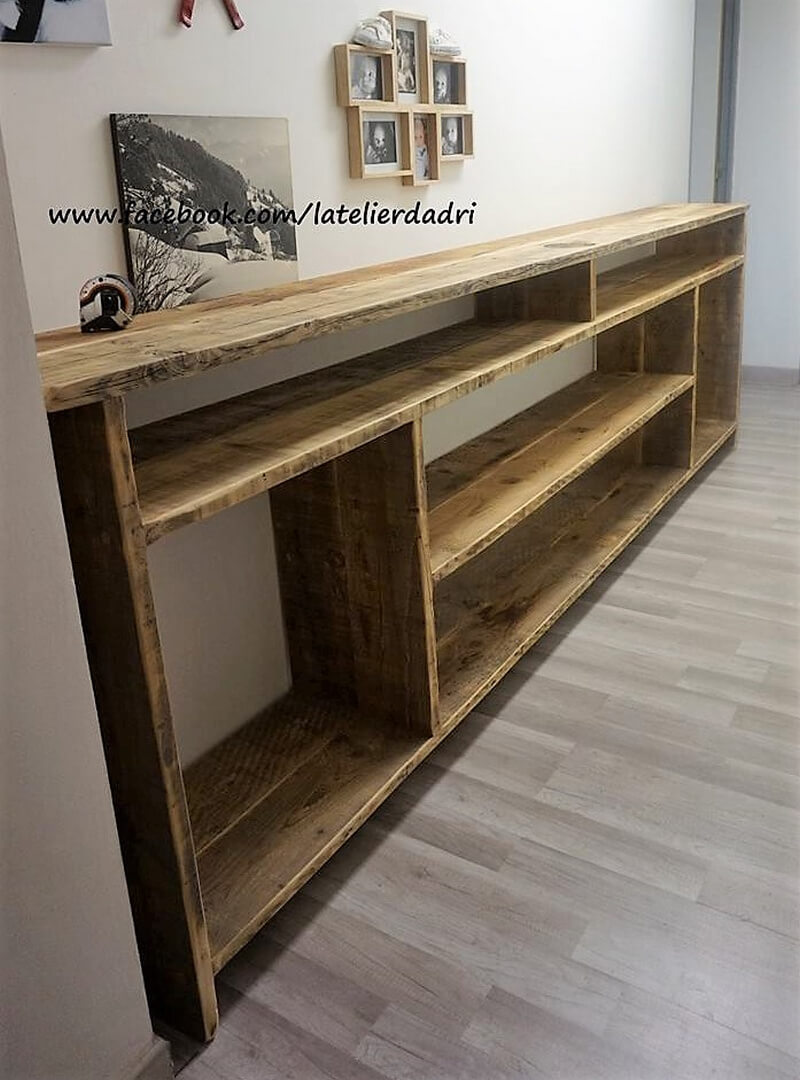 Re-purposed wooden pallets bunk bed is another functional and synthetic plan to decorate your kids room. It also serves as solution to the problem regarding your limited space. The drawers can be utilized to place bed sheets or other related items. This stylish and modern craft is very synthetic hence a perfect furniture for your kids room.
A plain and simple craft using refurbished wooden pallets is ready to serve for sitting and serving purposes along with providing captivating and delicate sight for your outdoor setting of the house. This outdoor furniture set provides soothing and relaxing environment to the tired and exhausted mind through its simple and refreshing beauty. Its addition to your house will add up more alluring sight to the overall view of your house.
A very unique and brilliant formation of the daily used furniture through re transformed wooden pallets has been presented here. This unrefined wood pallet table has been manufactured by joining together the stacks of raw wood pallets. Its addition to your house setting will give an up to date look to your space.
This re-purposed wooden pallet bar occupy very little space. It is a perfect and useful bar to place beverages. This wooden pallet bar gives exceptional looks through its plain beauty and texture.
Wooden pallet couch is a very inexpensive, pretty and inviting furniture to be added to your home decor. This slim and smart hand made craft is  a detachable furniture that can be set according to your need and space. A very convenient and easy source of seating purpose for your lounge or lobby. Spend your time and effort in such creative and interesting activities.
This exceptional craft work made by recycling raw wooden pallets will increase add flavor to your home decor. A very delicate and simple dining table has been prepared to garnish your dining room. Its size is ideal to be placed in your dining area. The wooden table will give a traditional and natural theme to your meal so, choose this project and get started for this great project.
Facing a lot of storage problems in your room? Retransformed wooden pallets bed with a lot of drawers gives you the solution to this problem. These drawers can accommodate plenty of items in them. It is a multipurpose furniture that not only solves your storage or space saving purpose but decorate your room as well through its plain and simple beauty.
This reclaimed wood pallet single bed idea is implemented here with detailed attention and skillful craft. Though few of the pallets are not fine but its fine since it all gets hidden once mattress has been placed. This space gives your more privacy and comfort with its compact and cozy design.
Now is the time to craft a multipurpose TV stand that not only accommodates your screen but also allows place for your decor pieces with few shelves along with a place to hand your wall clock.  The cabinets and the drawers make it more purposeful to meet most of your household requirements.
Kids are so important for all of us and we are always in search of things to present them as a gift. The reclaimed wood pallet kids bed offers you a very economical options for this purpose with its compact and cozy style and a rail underneath giving more space to have fun.
This recycled wood pallet gardening table provides you ease while you are at work with your plants in your garden. It is also a good addition to your existing outdoor furniture. It is very simple to craft at your own workshop.
The famous saying "First impression is the last impression" holds true for your house as well. This long and conventional rehashed wood pallet hallway tree offers you to give a warm welcome to the visitors in your own manner. You can place different decor pieces to sharpen the effect of this classic craft.
This re-purposed wood pallet chicken coop provides a safe place to your hens to stay and lay eggs. Hens don't have aesthetic sense to know that how beautiful their house is but we are smart enough to know that it will work as a decor piece for our garden as well.
Everything in the washroom feel slippery and wet and it will give a lot of comfort to feel that we have this recycled wood pallet bath tub stand. Wood pallets could be utilized in so many manners to craft a different thing every-time you attempt to work in your workshop.
The beautiful thing about crafting these economical furniture items by simply using retired wood pallets is that your are at complete freedom to customize the size in its length, height and pattern. This is a compact wood pallet bar that hosts a small party at your home.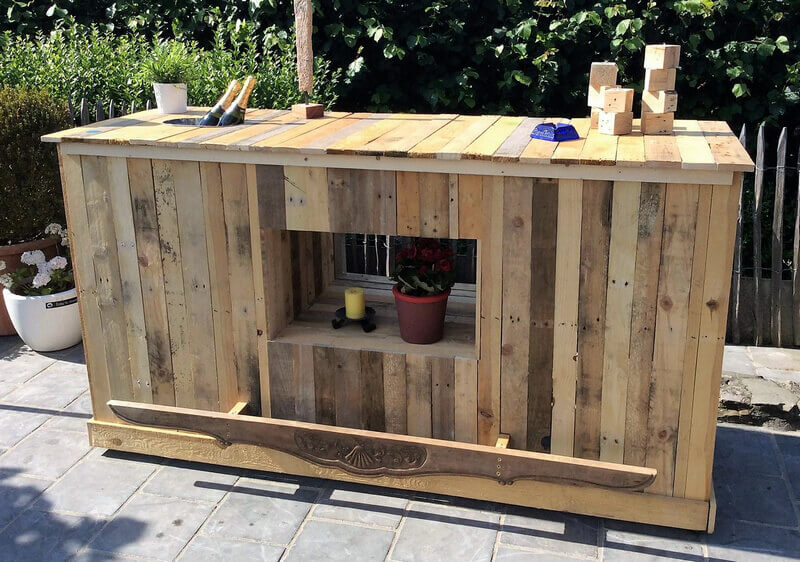 You are the trend setter. We don't have to follow a given pattern to work on by taking its measurement or copying from a picture. Its up to us to keep uniformity in style or give it a random look. If the wood pallets are of different size then rehash this wood pallet bar in its own design.

This recycled wood pallet patio bar is such a romantic idea to host a couple with its smart and compact size and adorable design. We all strive to hunt for places that attracts your loved one and why not craft it at your own workshop.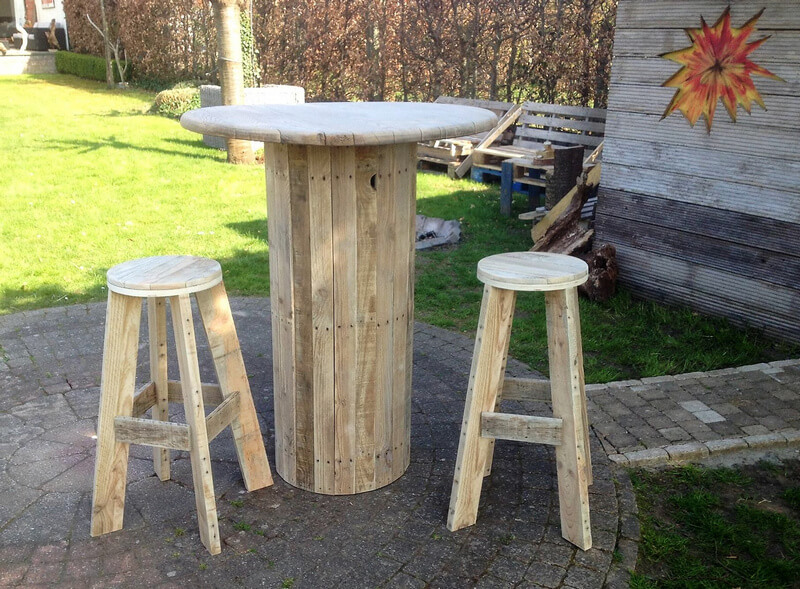 Kids really like the ownership of possessing anything from toys, bicycles to their own refurbished wood pallet bed. Gift your kid with something that will save you money and at the same time make your child feel blessed. This wonderful bed is an amazing craft of some unique style.
We all make efforts to give a good first impression to the guests about our home and nothing can help better than this reclaimed wood pallet hallway tree. This big Hallway tree is just not working as a decor need but also giving you much of storage options as well. Feel blessed to have this.
This reused wood pallets entryway table seems to be a well skilled craft of expert hands but reality will amaze you. This is a home made wood pallet entryway table. So fine and neat work has been accomplished here with a purposeful design of having few cabinets and drawers.
This re-purposed wood pallet kitchen island is so simple in its design and compact in its size but yet offering enough space in shape of two big cabinets to store your kitchen accessories inside and place your frequently used items at the top of this table.

Space dividers are commonly used around and making one for your home is an amazing idea. This is a simple wood pallet space divider three equal sized doors that folds up to each other and unfold to work as a wall between two spaces.
Spice up your evenings with this rehashed wood pallet chairs and table crafted for your garden to give your loved one a comfort to sit alongside you in an open air. The cupid on the back of the chair emphasizes your romantic affiliation to your partner.
Re-transformed wooden pallet T.V. stand looks perfect for the trendy look of your lounge. The rustic as well as the homely look of this craft enhance its worth in the viewers sight. Its beauty lies in its simplicity and delicacy. The underneath cabinets serve for storage purposes hence making it a functional as well as traditional furniture.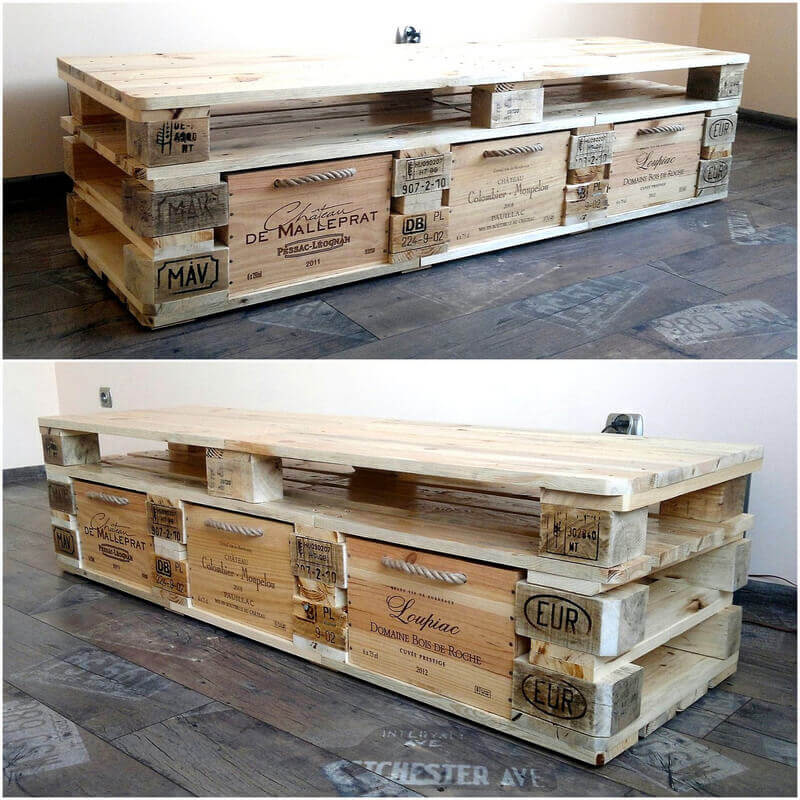 Here comes another brilliant and useful idea for your sitting area. It is giving a rustic and rural sight. Reclaimed wooden pallet furniture ideas provide you with a simple and practical ideas that perfectly fit to your surroundings. This wooden craft with ample space saving storage idea is looking simple and beautiful even when it is not given a final look. The final look is exceptional .
The idea is extraordinary. Refurbished wooden pallet bench is another brilliant project for multipurpose sitting arrangement. It contains storage options for your convenience.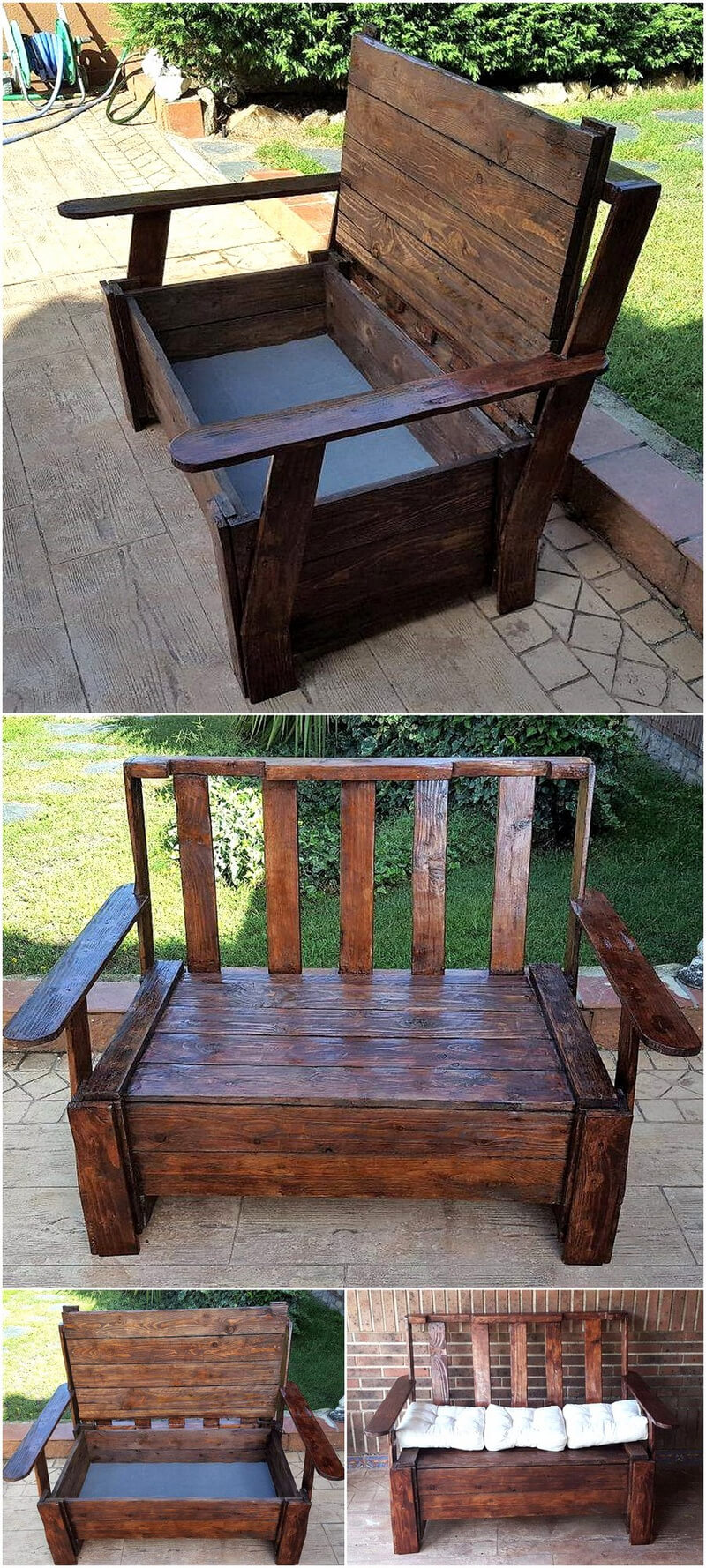 This re-transformed wooden couch set is a perfect craft for enhancing the beauty of your outdoor decor due to its plain and simple artistry. This appealing artwork has qualities appealing ones senses. Its addition to the garden alters the view of the house. A complete package of nice looking and practical furniture idea is ready for you to be complemented.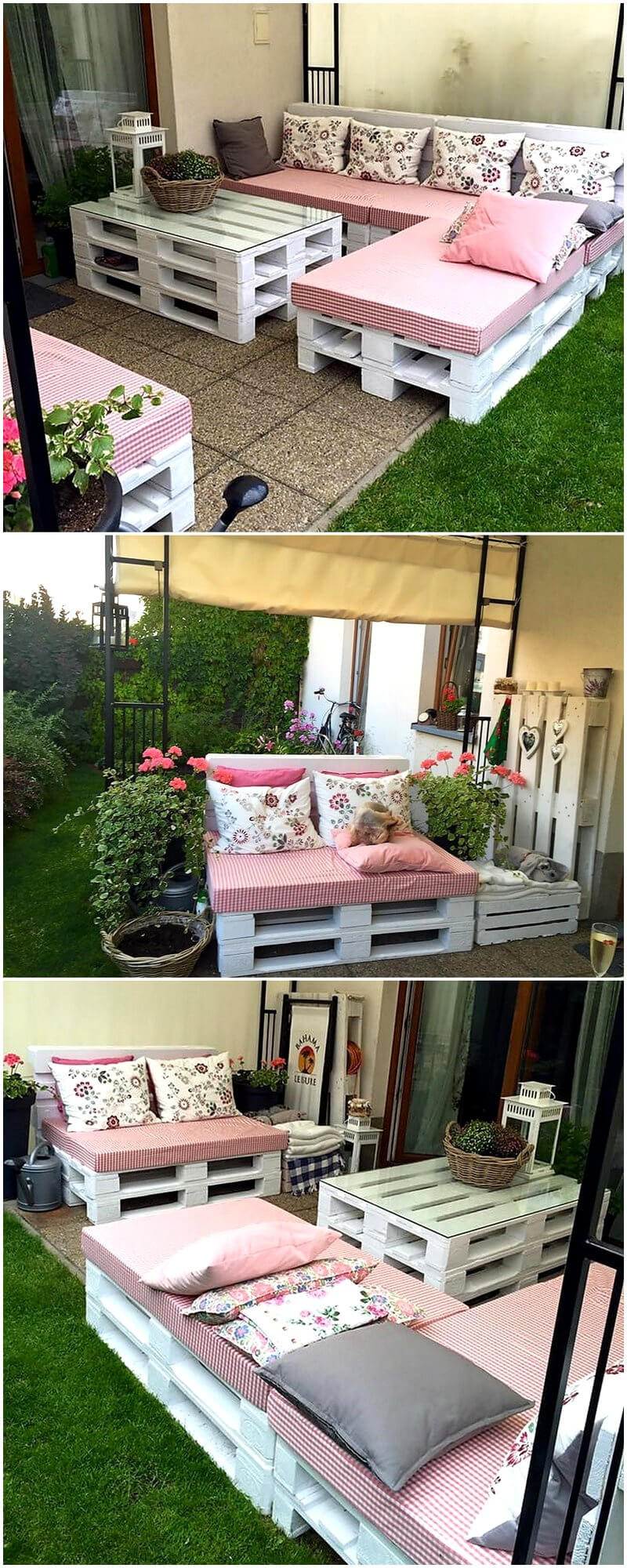 Here is a another idea proposed for you that in case of storage options provides you ease and convenience at large level. The whole bar has several divisions and partitions providing options to place different items in them.Re proposed wooden bar is a functional craft to be praised.
Give your room an artistic look by crafting a synthetic product like re used pallets wood bed. This fascinating craft proves to be an aesthetically pleasing product. The natural color blending of the bed  is making it a captivating and alluring piece of art. It provides trendy and atypical view to your living room through its plain beauty.
Re-transformed wooden T.V. console is another practical project providing ample space for your television as well as storage options for other stuff. you can cut the area of the television according to the size the of your screen or t.v. A very fascinating and attractive idea to be worked on. It not only changes the looks but also make your life easy and comfortable as it provides enough space for storage.
The outdoor decor needs the same attention as the interior. Are you bored with the typical outdoor furniture available at the furniture shops? utilize your time and effort in implementing your creativity into something unique. This kind of outdoor furniture provides a pleasing and captivating sight to the viewer.
This type of reused wood pallet bar looks appropriate to make the entrance or any other corner to look delicate and trendy. The refreshing white color is increasing its worth and will complement your surroundings. The top of the bar is spacious enough to accommodate several of your beverages and glasses.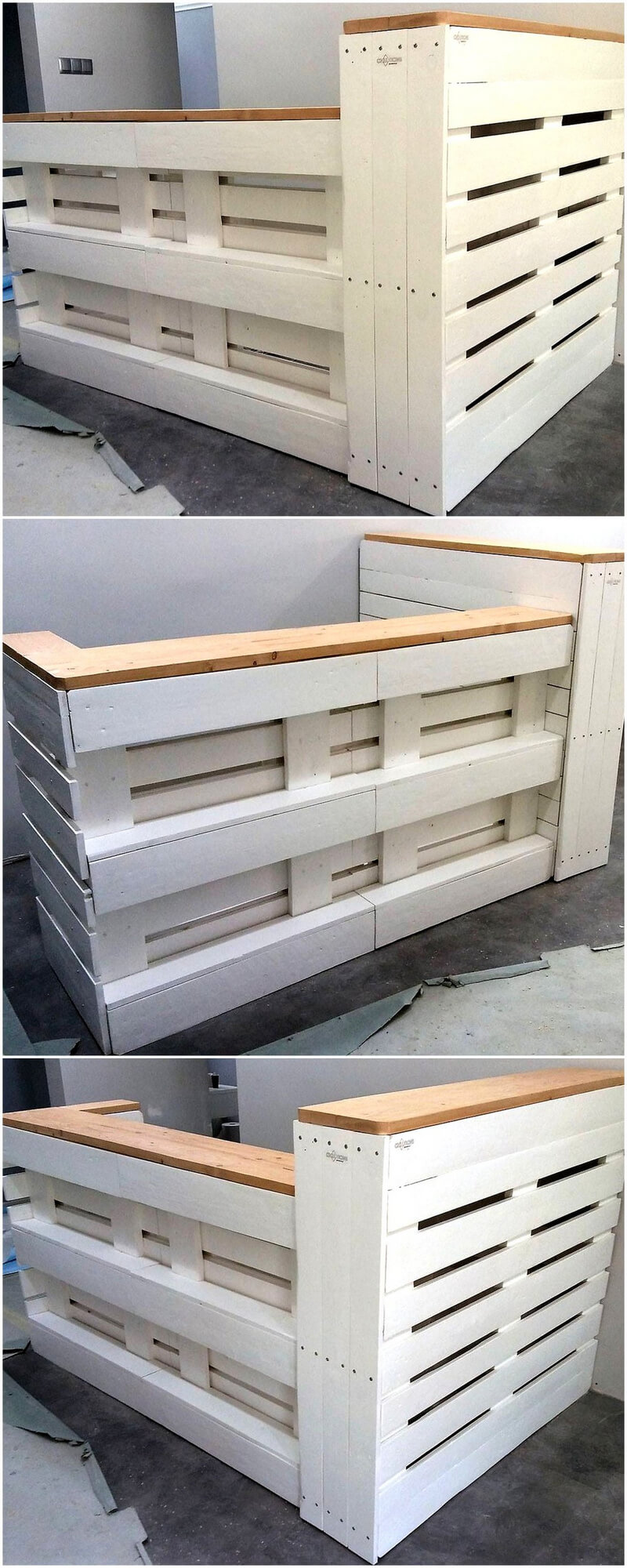 A perfect idea to create a soothing arrangement for relaxing your exhausted mind. spend your leisure time in the refreshing surroundings to relax. The color scheme used in the recycled wood pallet garden lounge is giving a trendy and fascinating view to the viewer.
This fashionably elegant and stylish rehashed wood pallet bed gives your senses a hard time to believe that it has been crafted by unprofessional hands. The dark headlong with light borders is sharpening its looks. A craft so fine and finished !
This recycled wood pallet patio lounge plan is one of its kind in it design and utility. We are always in desire of giving our garden a unique look and nothing can make our desire fulfilled than this class craft.