Amazing Design Ideas for Wood Pallets Corner Shelves
Corner shelves are a great way to maximize storage space in your home, especially in rooms where space is limited. They are designed to fit neatly in the corner of a room, and can be used to display decor items or provide extra storage for books, plants, and other items. Wooden pallets can be a great material to use in creating unique and rustic furniture pieces, such as corner shelves.
Here are a few design ideas for corner shelves made from wooden pallets:
Rustic style: Keep the natural look of the pallets by only sanding them lightly to remove splinters, but leaving the rough texture intact. You can use the shelves to display items such as potted plants or vintage decor pieces.
Painted pallets: If you want to add a pop of color to your shelves, consider painting the pallets in a bright or bold color. You can also paint each shelf a different color to create a rainbow effect.
Staggered shelves: Instead of having all the shelves lined up evenly, stagger them so that they overlap at different heights. This creates a more visually interesting display and allows you to fit larger items on the shelves.
Distressed pallets: Create a distressed look on the pallets by sanding them heavily to create a worn texture. You can then add a layer of paint and sand again to create a shabby-chic effect.
Hanging shelves: Instead of mounting the shelves directly to the wall, attach them to ropes or chains and suspend them from the ceiling. This creates a unique and eye-catching display that adds interest to the corner of the room.
Tiered shelves: Create a tiered effect by using pallets of different sizes and stacking them on top of each other. You can also add brackets to create additional levels and increase the amount of storage space.
Remember, these are just a few ideas to get you started. The possibilities are endless when it comes to designing corner shelves from wooden pallets, so feel free to get creative and come up with your own unique design.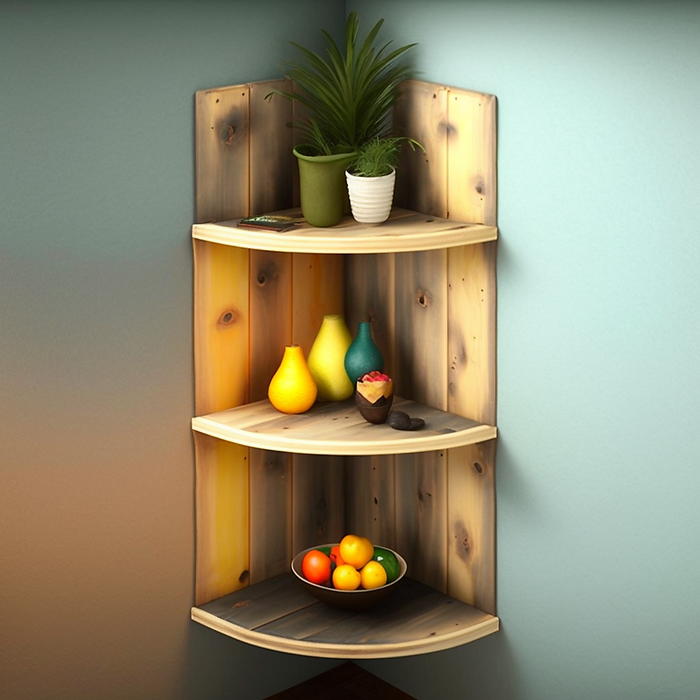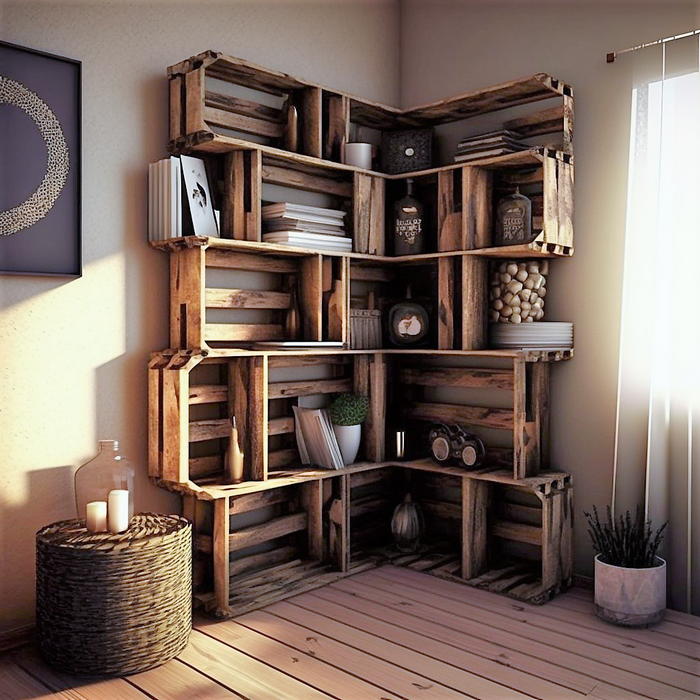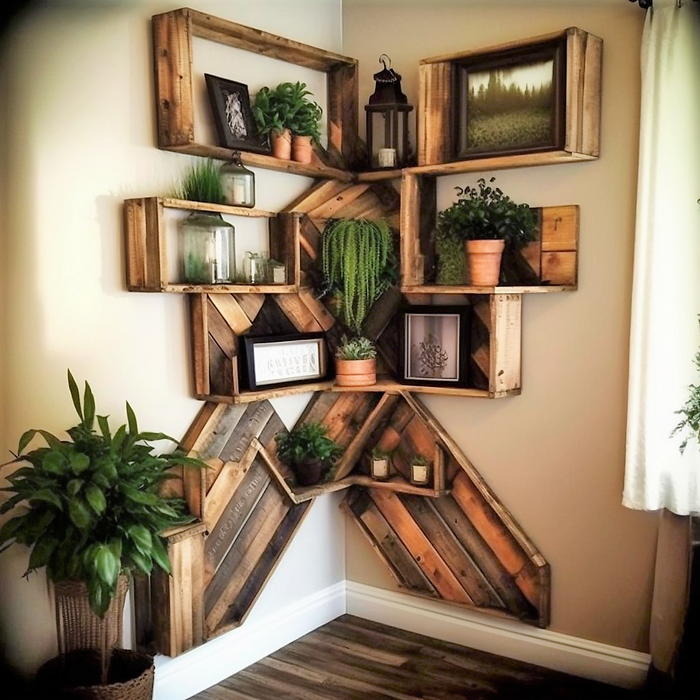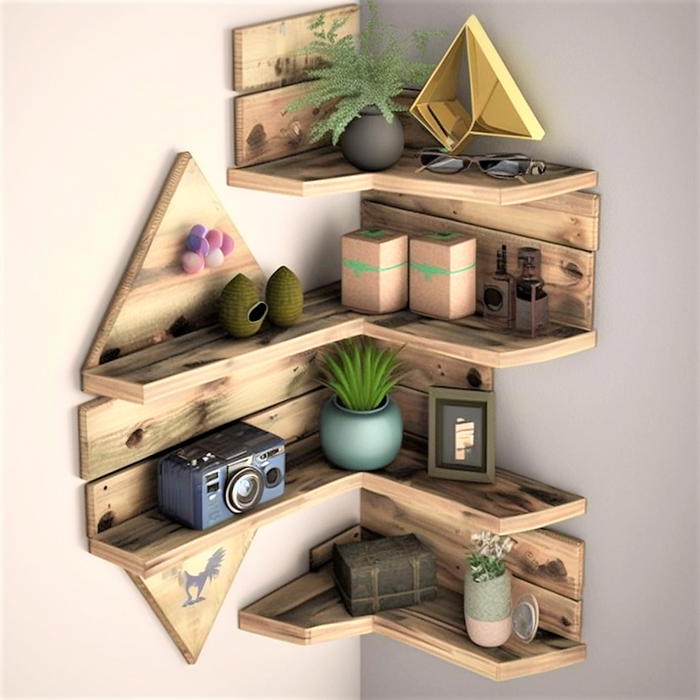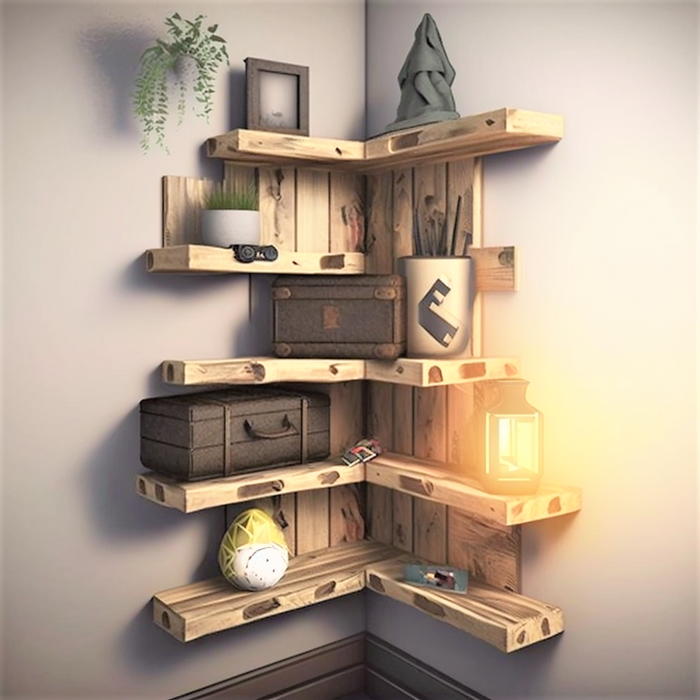 Here are some steps you can follow to make corner shelves out of wooden pallets:
Choose the pallets: Start by selecting the pallets you want to use for your shelves. Look for pallets that are in good condition and have evenly spaced slats that can serve as shelves.
Clean and sand the pallets: Once you have your pallets, clean them thoroughly to remove any dirt or debris. Then, use sandpaper to smooth out any rough edges or splinters.
Cut the pallets: Use a saw to cut the pallets into the size and shape that you want for your corner shelves. Make sure to measure carefully to ensure that the shelves will fit properly in the corner of the room.
Sand the edges: Sand the edges of the shelves to make them smooth and prevent any splinters.
Assemble the shelves: Use screws or nails to attach the shelves to each other at the corners, creating a three-sided unit. You can also add additional supports if necessary.
Mount the shelves: Finally, mount the shelves in the corner of the room using brackets or screws. Make sure to securely attach the shelves to the wall to prevent them from falling.
With a little bit of creativity and some basic woodworking skills, you can turn wooden pallets into a unique and functional corner shelf unit that adds character to your space.