Cheap Achievements Out of Used Wooden Pallets
Here we came up with thought-provoking ideas that how can we reuse wasted wood pallets? These pallet ideas and plans will reshape your home and give your place pleasant environment. Let's utilize the wasted raw material present at our homes for creating some mind-blowing as well as outstanding wood furniture items. It does not matter that you want some wooden items for your lounge, garden or for your kitchen this articles will assist you about all you think for. So indulge yourself in an eco-friendly activity of transforming and upcycling of wood pallets and create something exceptional with it.
This reused wood pallet patio lounge appearance unique and attractive in its organic wood texture. This large size corner couch with a middle table made of useless wood pallets is giving the whole environment a fantastic display. It will not only fulfill the seating requirements but at the same time will provide you best wooden furniture economically.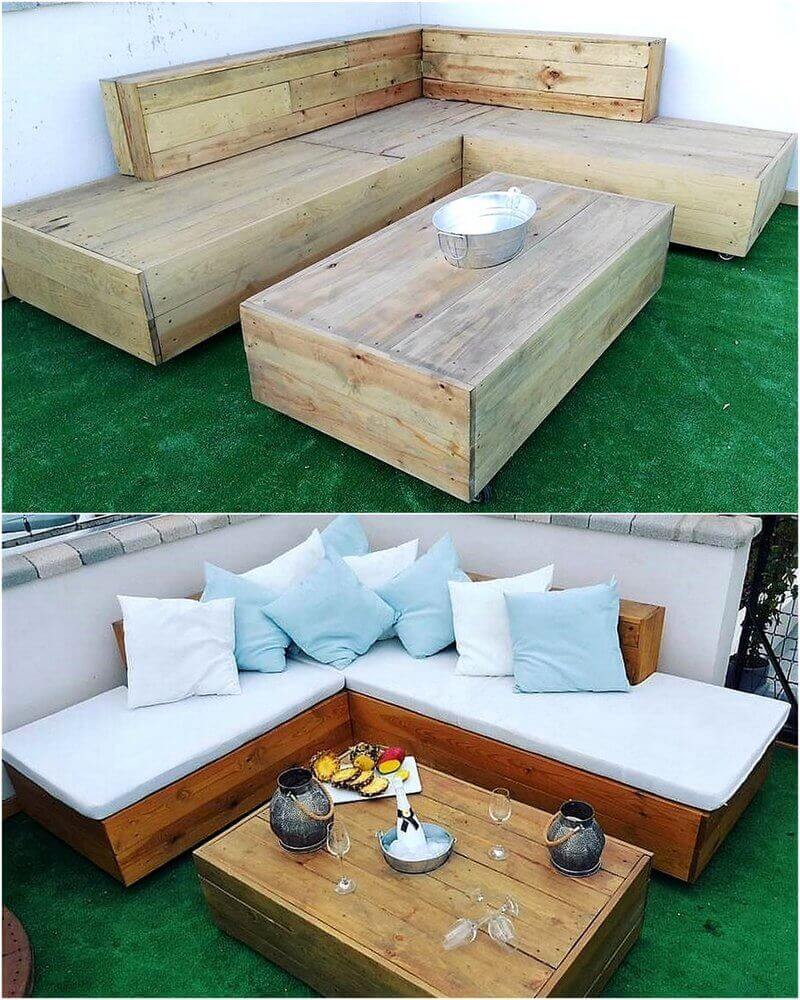 This rustic look pallet bar is a thought-provoking innovation of wasted wood pallets. This bar seems good enough to use for outdoor events and parties. The rustic look of bar's upper body and the black painted wheel in the lower portion is making this project an ideal one.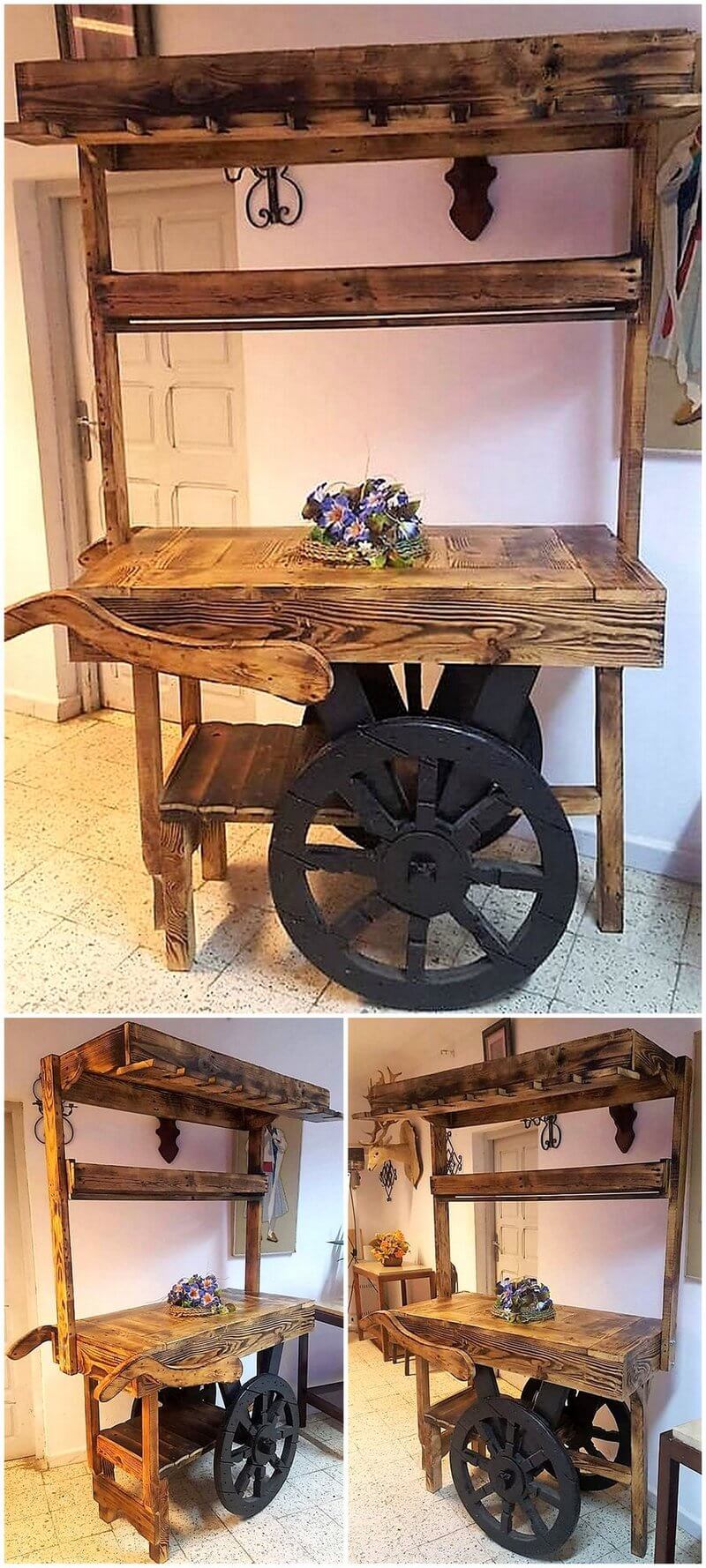 This DIY pallet garage workshop is constructed to provide you a complete workshop area at your home. This wonderful workshop is crafted with upcycled pallets woods present at home. This workshop will able you to work properly on your different project in an organized way.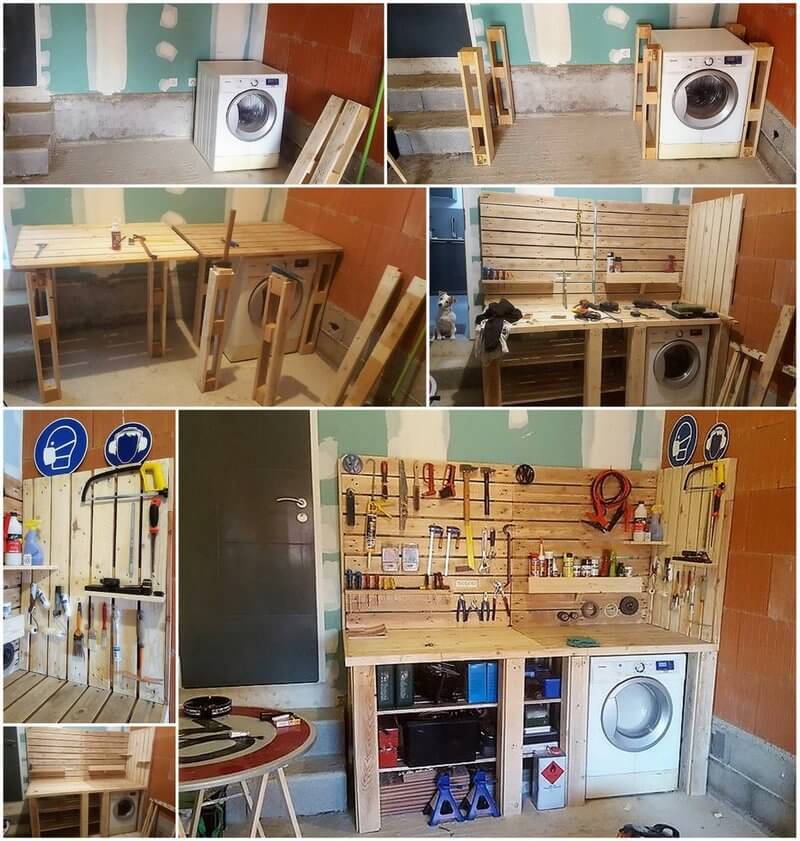 These pallet shop counter and shelving rack are artistically crafted to fulfill your needs for the store furniture. Just have a look at the beauty and grace of the vegetables and fruits displayed in pallets wood products. These counters and rack designs will definitely admire your customers towards it.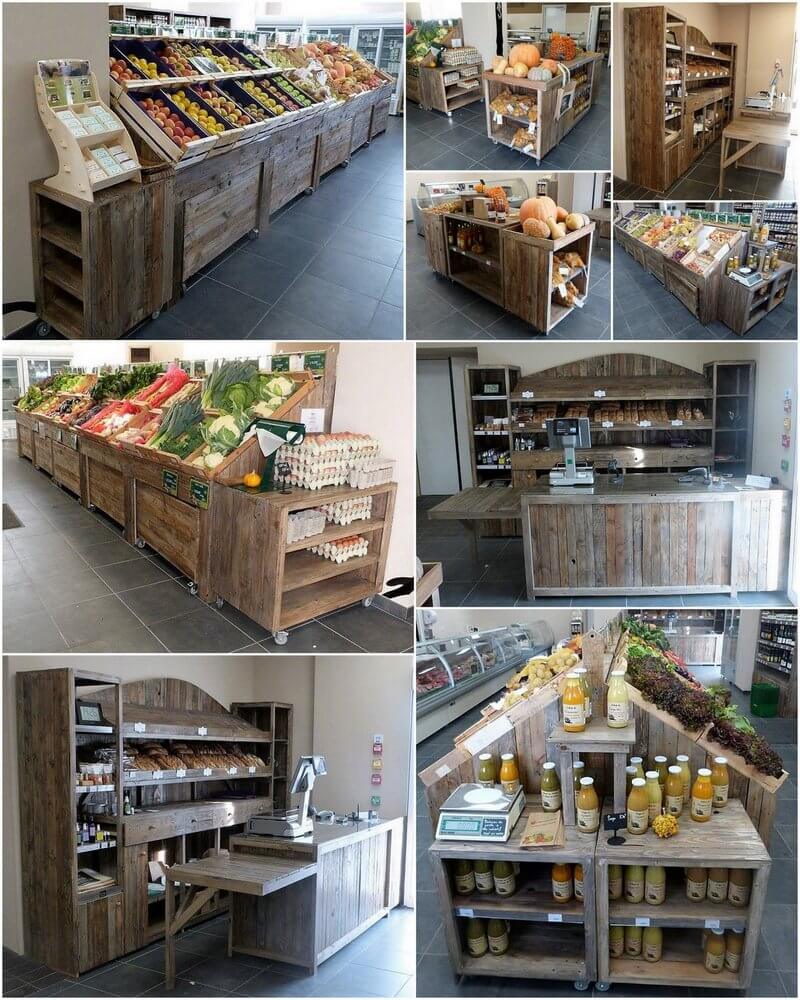 This is another picture of pallets made Kitchen Island show that how we can use wasted pallets present in our home into useless kitchen furniture. It is beautifully created pallets plan that we have painted in white as according to the color theme of the kitchen.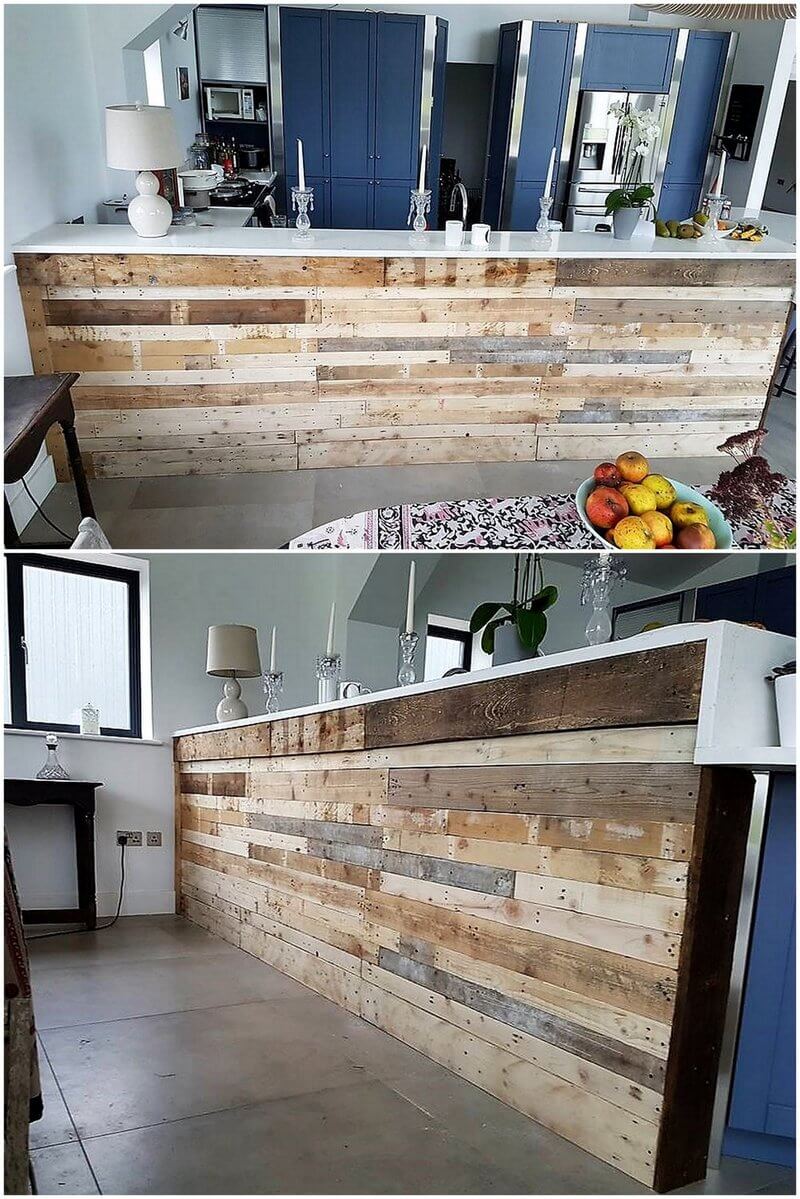 This wood pallet patio function deck plan is another simple to create pallets wood idea. This pallet made deck will provide you best area for organizing different events and parties at your home. This pallets woodcraft will also enhance the grace of the place where you have designed it.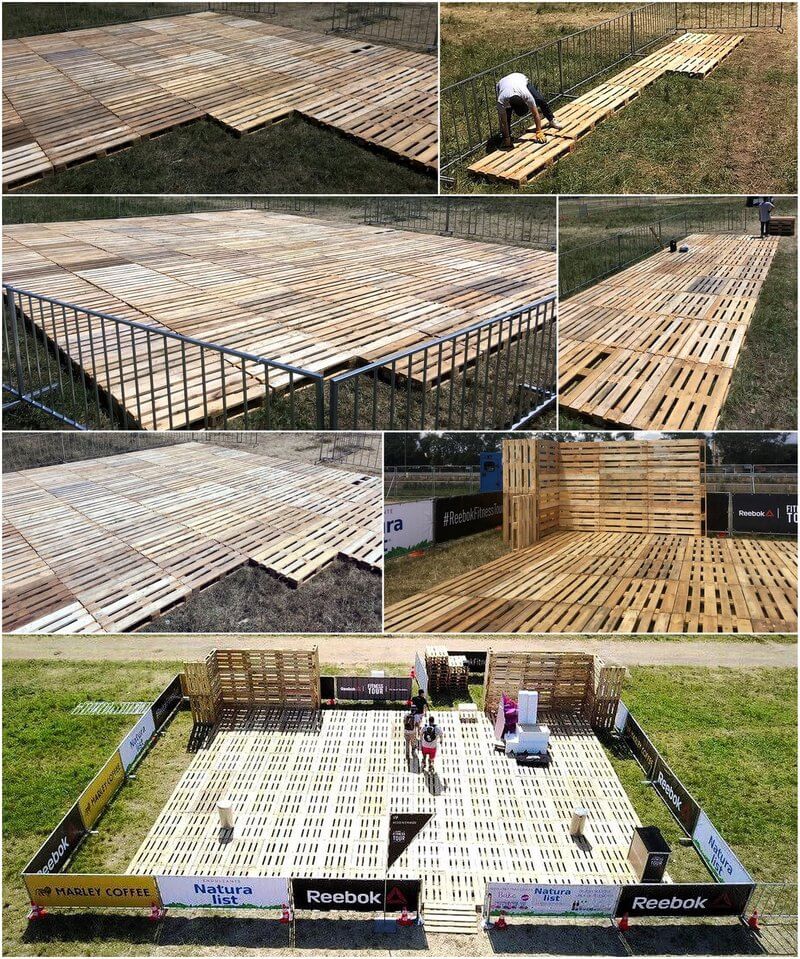 A small bedroom, no doubt also requires storage space and appealing atmosphere. This pallets bed with storage will not only fulfill the requirements of your bed but also provide you a good storage capacity in it. Use the wasted pallets present at your home to decorate your room with this outclass pallets bed with storage.
This luxurious pallets wood garden furniture set is designed to enhance the grace and beauty of your garden. This garden table, chairs, and a couch is also good-enough to craft for outdoor area of your office or restaurants. Let's decorate your outdoor to make it a valuable area of your home.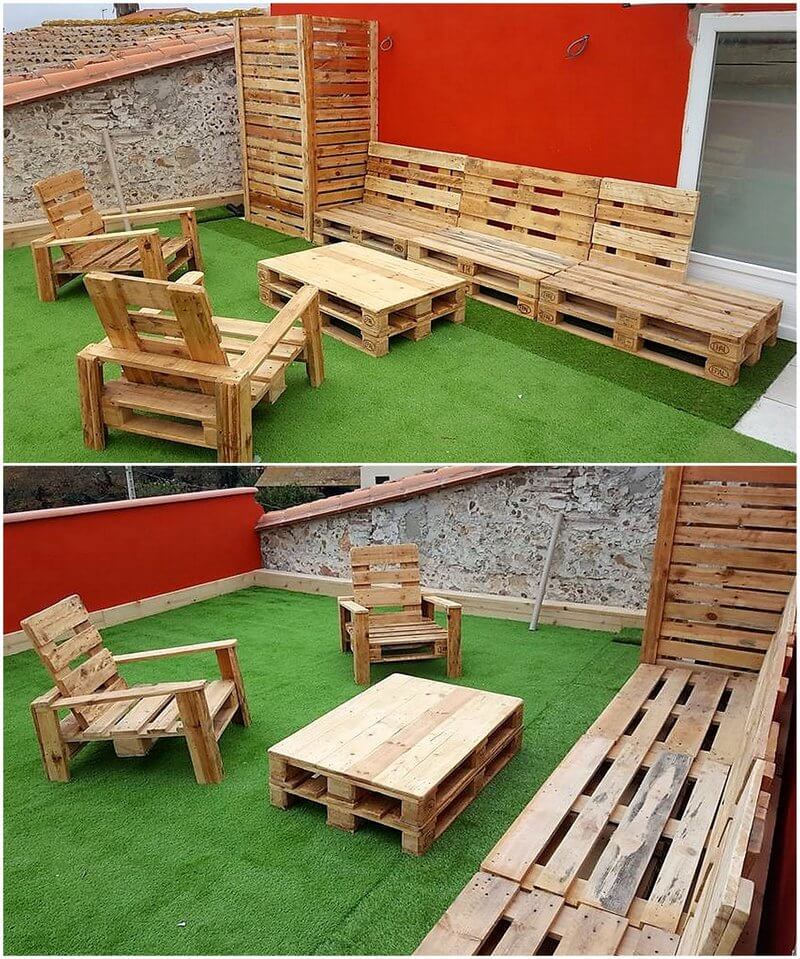 This wood pallets shelving art with light-brown color curtains on the side seems a pleasant idea for the renovation of indoor as well as for outdoor space. The white and black color combination on this attractive wooden project seem beautiful and it is the best work to provide your home an awesome decor item.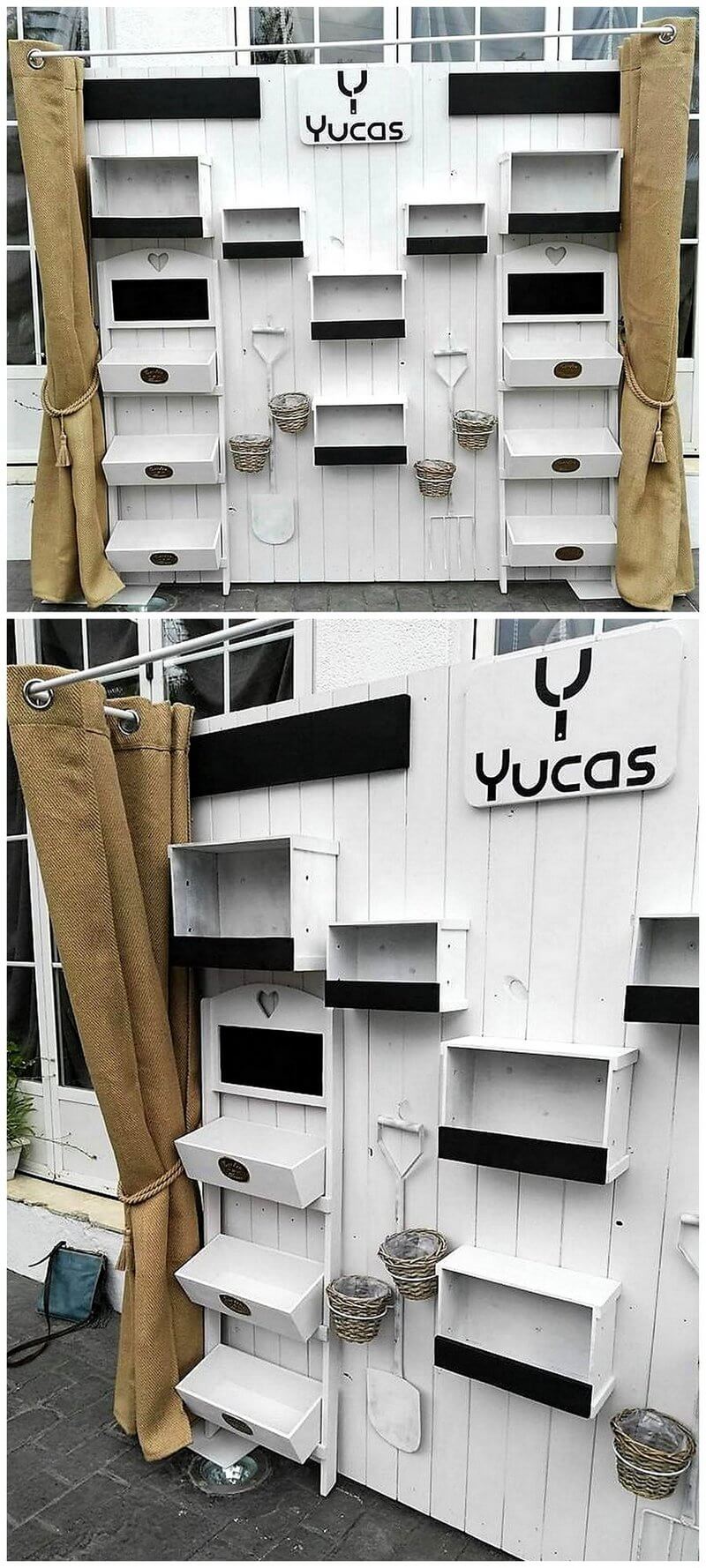 This wood pallet made media console has everything you need is your room. You can place your large-size LED in the middle portion. The upper small blocks can be used for decoration purposes and the side and lower drawers will provide you best storage capacity. The black color frame on the side of rustic pallets seems wonderful.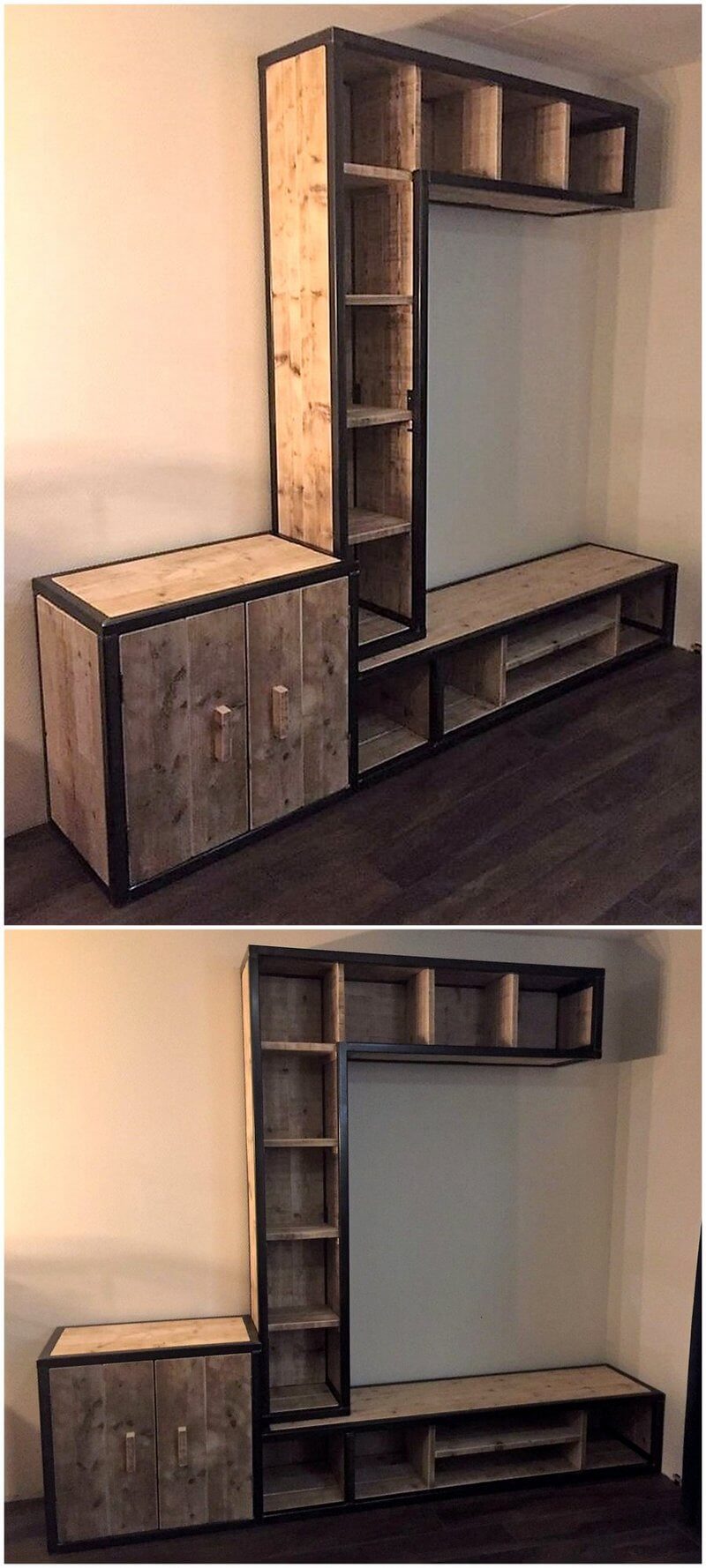 This pallet made media cabinet is another extraordinary but simple pallets innovation. We have used wood pallets for its creation but before using these pallets it is important to clear them properly. We have cut the stacks of useless pallets wood into desire dimension and joined them smartly to complete our beautiful, large media cabinet.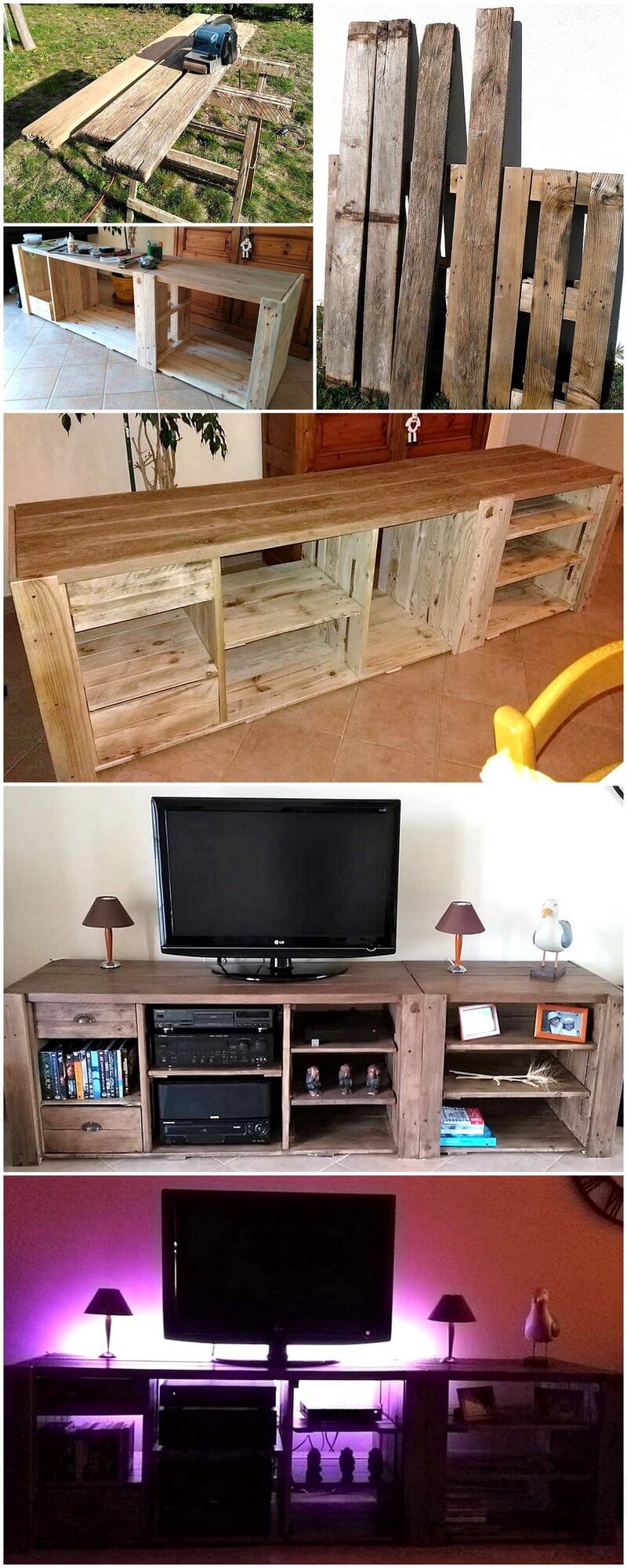 This wood pallet space divider plan is crafted for your ease. If you have a large room but you yearn to divide your room in a delightful manner then this room divider will assist you in the matter and at the same time, it will give your room a glamorous look.

If you are a store owner and wants to refurnish your store then this reclaimed pallets fruit and vegetable display stand is the best plan for you. Use your extra time and become creative to create this eye-catching pallets wood plan. Now display your fruits and vegetables in it to increase their original beauty to some extent.
This is wood pallets garden cabin is completely constructed with recycled pallets. First of all, we have created its wooden base after joining the different sizes of pallets wood and then designed its wooden walls. After the completion of these two, we have crafted its roof with upcycled wood pallets to fulfill to your garden cabin requirements at a reasonable cost.

Create something unique for your outdoor. We have crafted this pallets rustic look garden shower plan to provide best in low-price. This shower plan will make your garden a royal one at your home with its elegant and rustic appearance.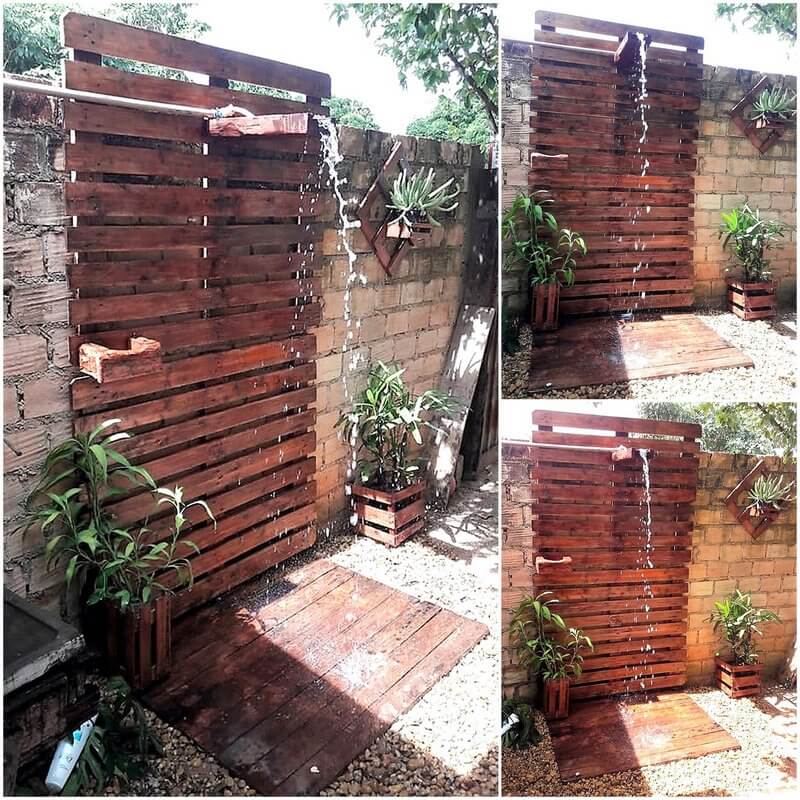 Everyone yearns to have an elegant wooden wardrobe at his home. This pallets wood wardrobe plan is specially created to your satisfaction as well as your happiness. With thus large wooden pallet wardrobe, you can keep your books, clothes, shoes, medicines, flowering pots and everything in it in an exact manner.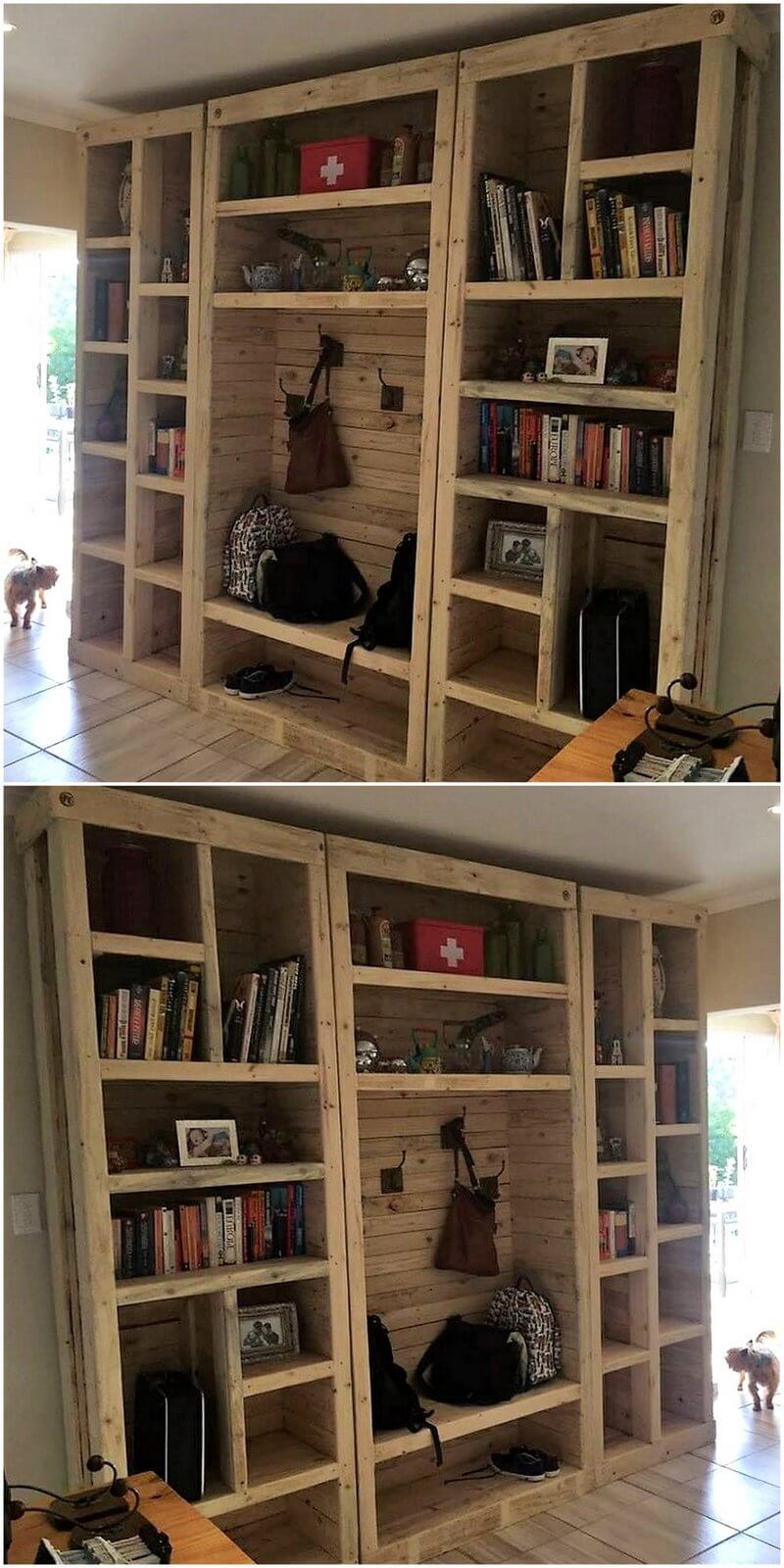 Let's renovate the whole bedroom with this wood pallets room furniture plan. We have designed a single bed with a side table by retransforming the wood pallets. The other corner of this room has a study table that is also created with reused pallets and the storage table is also crafted with reclaimed pallets wood.

Here we are offering an amazing looking pallets wood sofa project. This is multipurpose furniture item that will give you best comfort with three, two and one seater sofa. The rustic appearance of wood pallets and the beautiful shocking pink color cover on mattresses are making this complete sofa furniture for your home.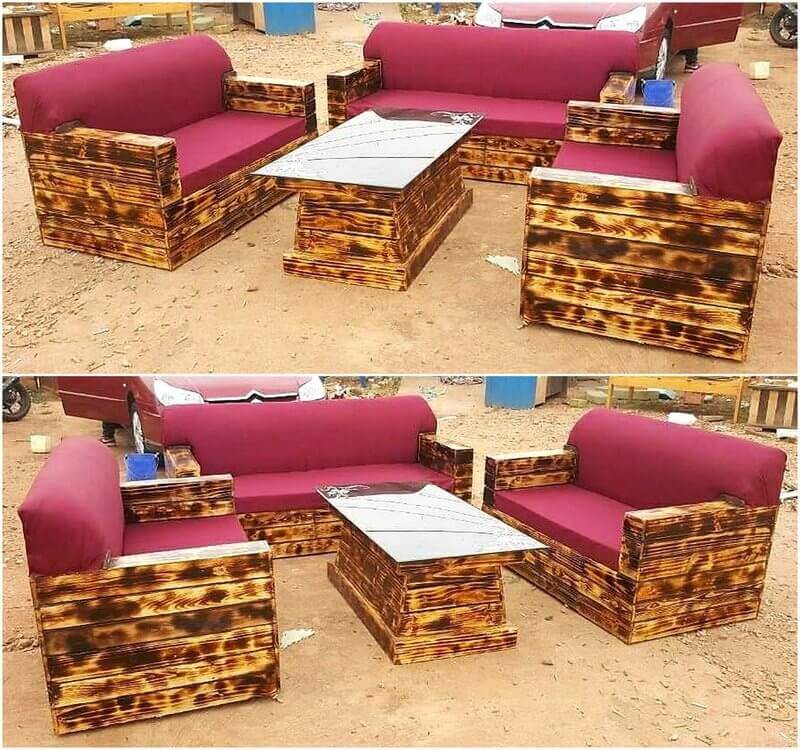 This is another beautiful pallets made shop display stand. Now refurbish your shops with recycled pallets project and attract your valuable customers in an appealing way. Display your shop products in it to give them an admirable presentation.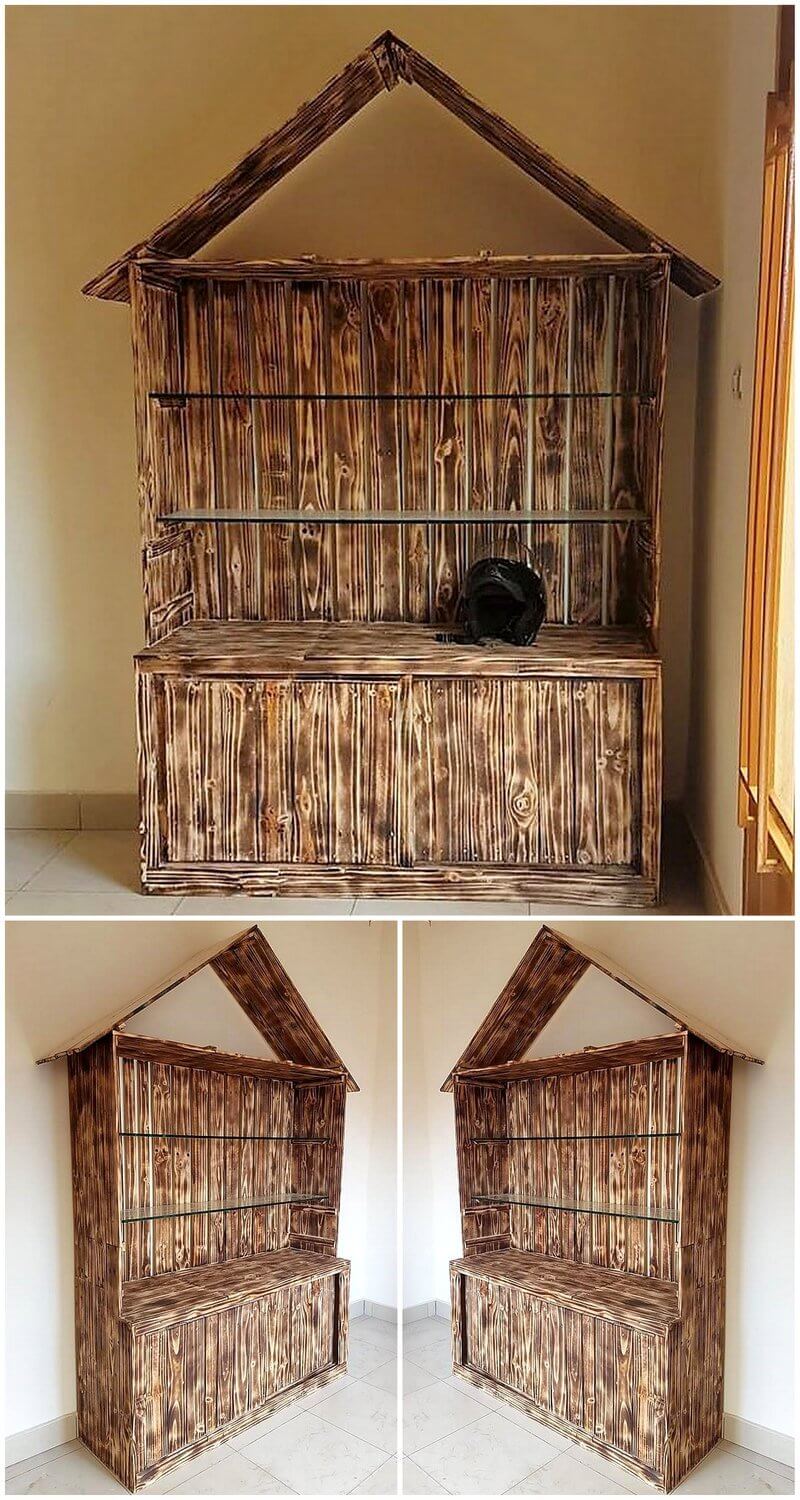 If you really desire to decorate your outdoor in an economical way then collect few stacks of wood pallets and reshape them in this attractive pallets wood planter. This rectangular, medium size pallets planter seems beautiful with different shades of pink flowers.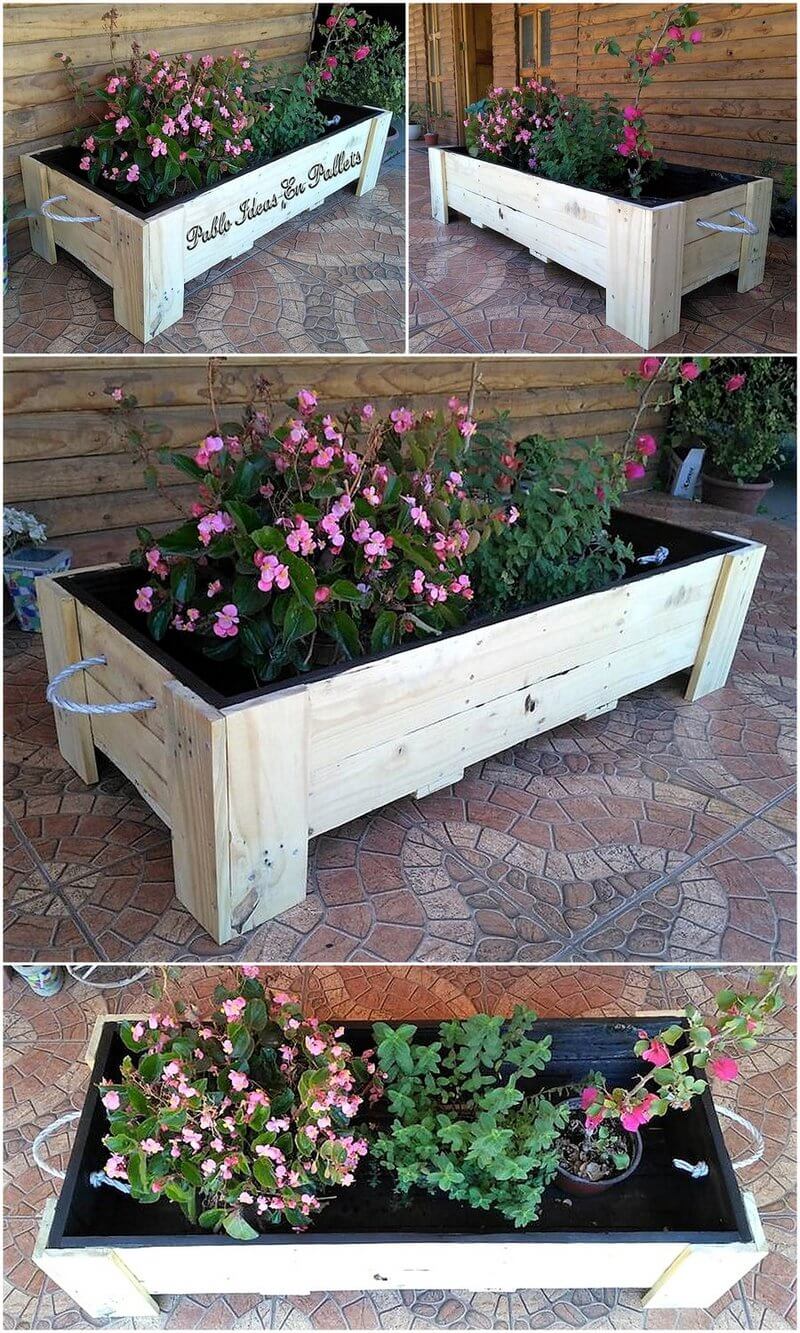 This wood pallets bed frame with side drawer in the picture given below appears modern and stylish. This project is totally changing the atmosphere of this room. This recycled pallets wood bed frame can be easily decorated with the use of color paint. The lower rectangular blocks will provide you best place for storage.
It is a recycled wooden wall planter created with useless pallets already present at home. The dark brown color on this simple pallet wall planter seems more beautiful and giving this creation an outstanding display.
This wood pallets shower plan is designed to give you the best decorating item for your bathing area. Use your creative ideas to transform the simple look of your bathing area into royal one with this pallets wood shower plan. This plan is beautiful the in display as well as cheap in cost.
We are presenting another beautiful pallet floor idea. This creation is totally designed for the use of wood pallets. This is another simple pallets project just your concentration and few crafting tools like; woodcutter, drilling machine, glue gun, and nails are required for this project.

This pallets executive desk is multipurpose wood pallets project. Now, this piece of art is constructed especially for schools, offices, and cafeterias. It has large space for serving food and the lower drawers to keep your keys and important documents in it.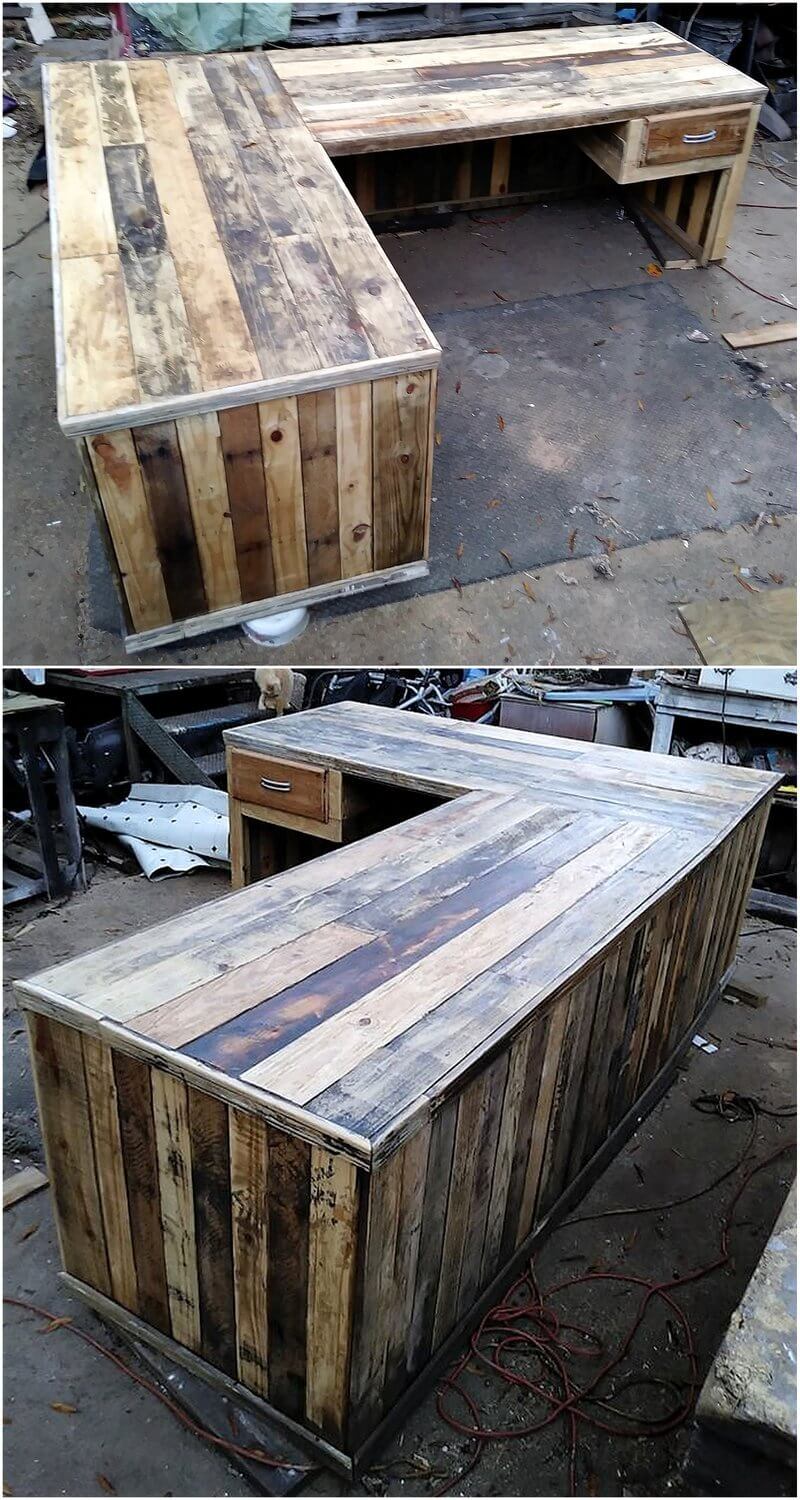 If you are planning to renovate your small terrace with something valuable but worried about less space, then this pallet patio terrace plan is perfect for you. Craft this pallets terrace plan to transform its look into stunning one.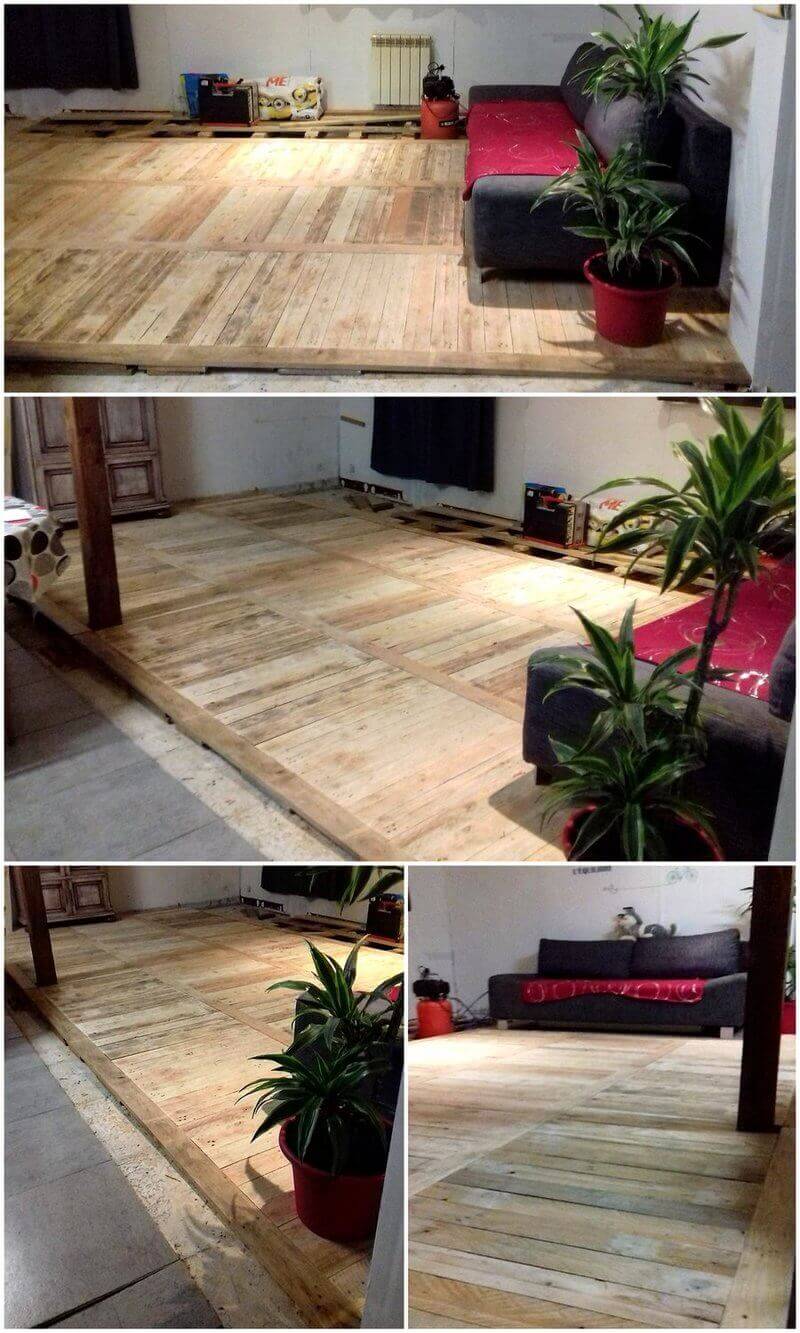 This pallet planter with storage is smartly crafted by keeping in mind your needs for having the best planter with storage capacity. This wood planter is best for growing flowers, and plants at the same time the middle storage area will provide you ample area to keep your gardening tools.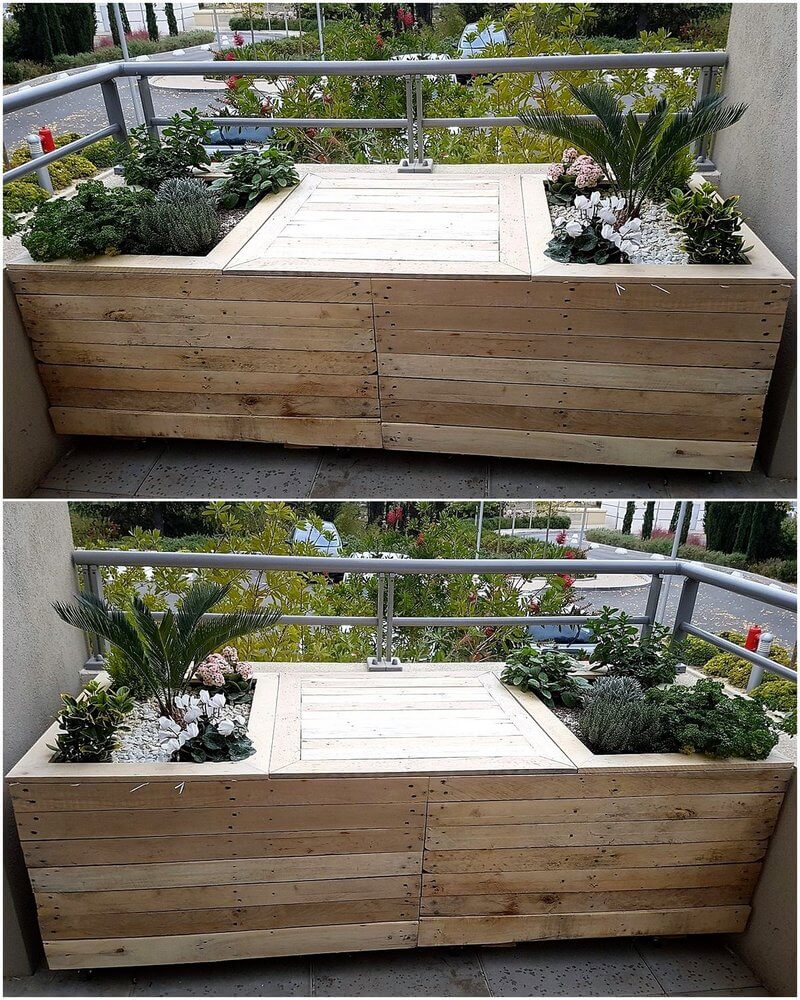 This wood pallet sun lounger is a simple but the most-attractive wood pallets project. You can place this gorgeous piece of artwork at the corner of your swimming area to take sunbath after swimming. Reshape your place with these mind-blowing pallet plans.
Here we came up with another thought-provoking pallet planter cum trash bin. This is a multipurpose pallets plan crafted to provide you the best. The upper portion is a perfect planter for your planting and the lower large size cabin is created to give you best space for keeping trash bin.

This recycled pallets garden cart is constructed for your comfortable working time in your garden. Use this garden cart to change the position of garden pots in an easy way. This pallets wood garden cart with a wooden wheel appears something more than an ordinary cart.
Let's reshape useless pallets wood into an amazing pallets bed to renovate your bedroom with a new designed wooden bed. This wonderful-looking pallets bed with a pallets decoration on room's wall is crafted for your relaxed sleep as well as for rendering you the unique-structure wooden bed at cheap price.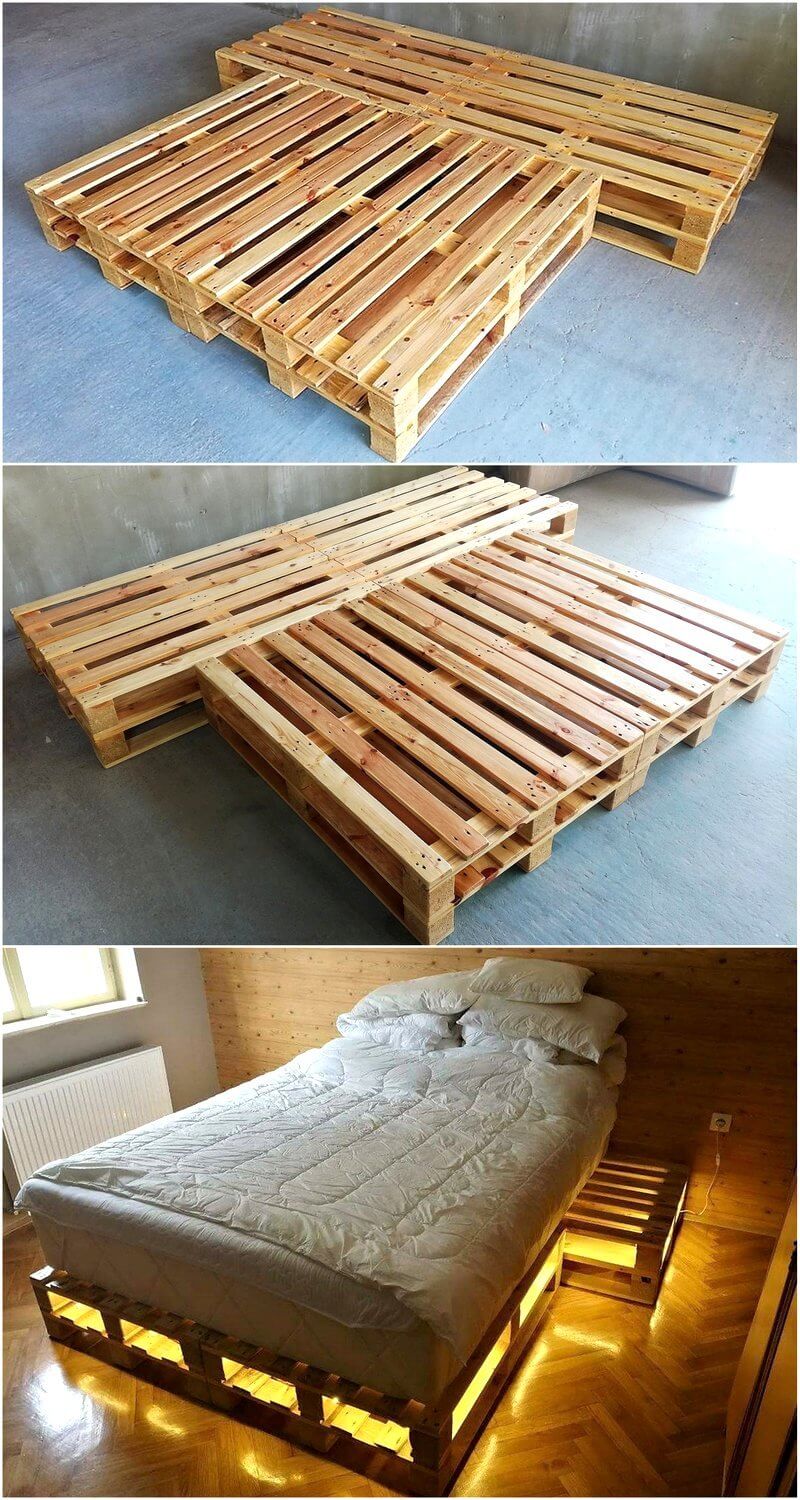 Give comfort to your lovely pet with this wood pallets dog bed. It is created with recycling pallets wood. We have not decorated this dog bed with any other decorating material but you can use paint on this plan to make this project more appealing and valuable.
Here we came up with another extraordinary pallet entryway table project. This is beautiful wood pallet entryway table created to provide you an outstanding wooden table for placing your decorating items and other useful items on it. It has two cabins, and five drawers to provide you enough space for storing essential products.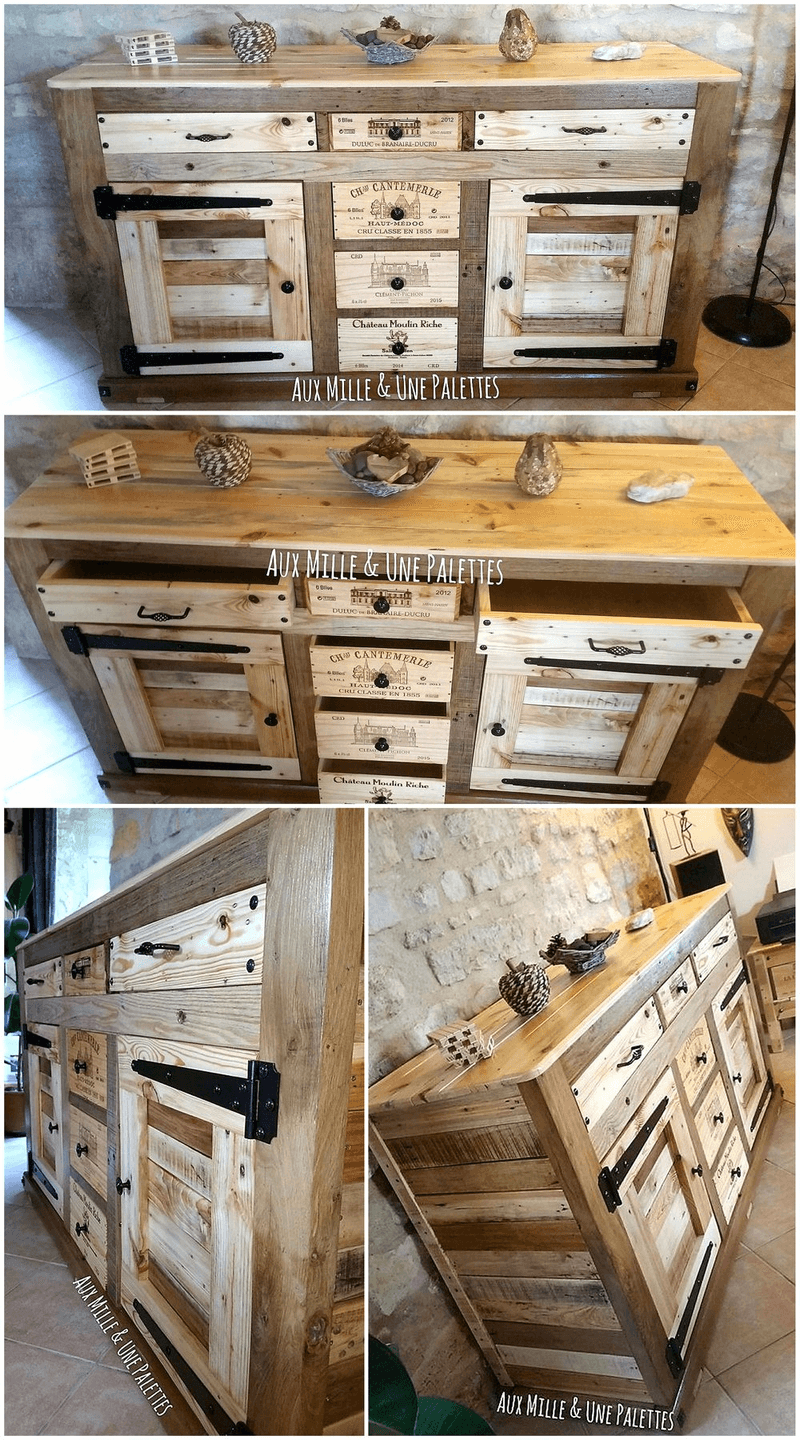 This reclaimed pallets wood table is designed by keeping in mind your needs for having complete table furniture in your drawing room. It is functional as well as a multipurpose project to be crafted. You can easily place your books in the lower portion and table's outer surface will serve you to great for serving food and tea purposes.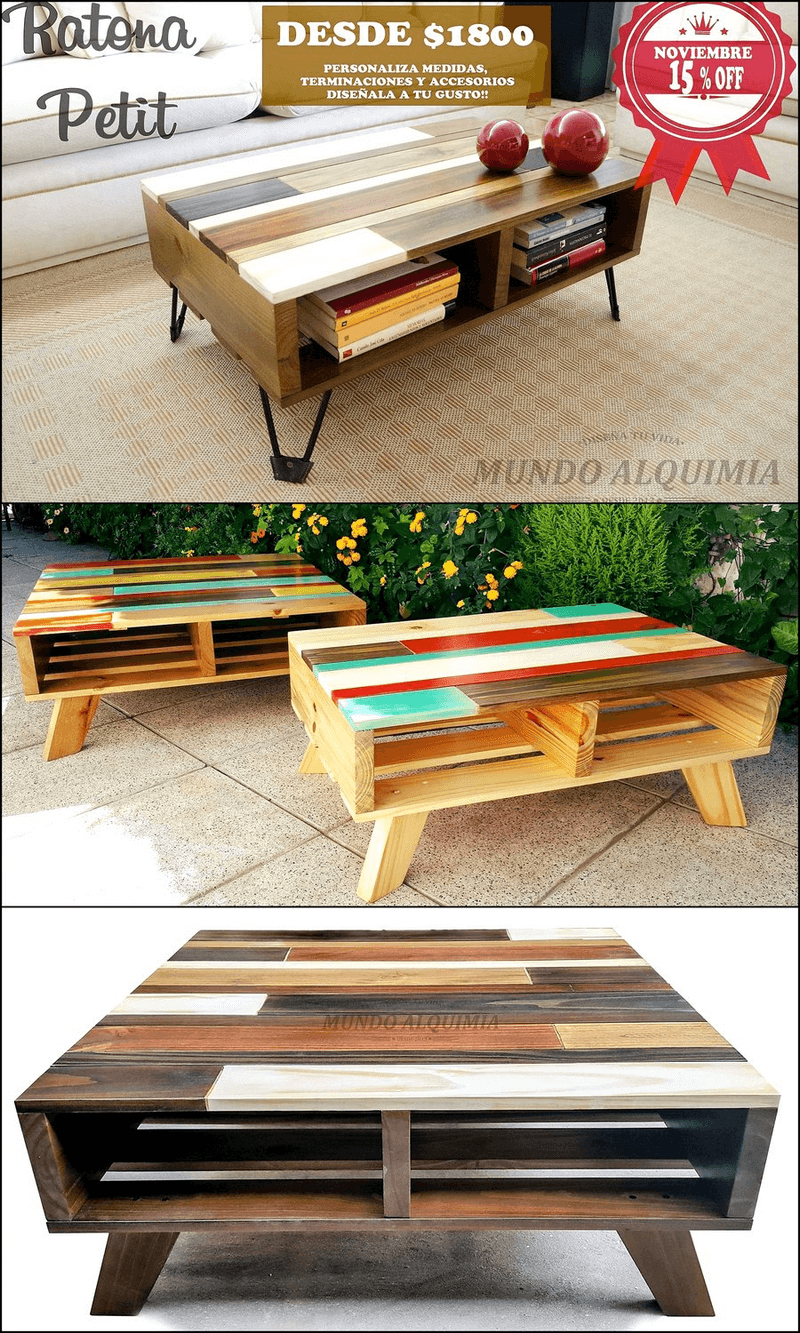 This wood pallets cupboard is another, easy to craft, cheap in price and incredible in appearance pallets wood art. This cupboard is best to use for storing your clothing items, as well as equally best to use in your kitchen as a kitchen cabinet. This cupboard has two cabins, two drawers, and different layers to keep your useful things in an organized manner.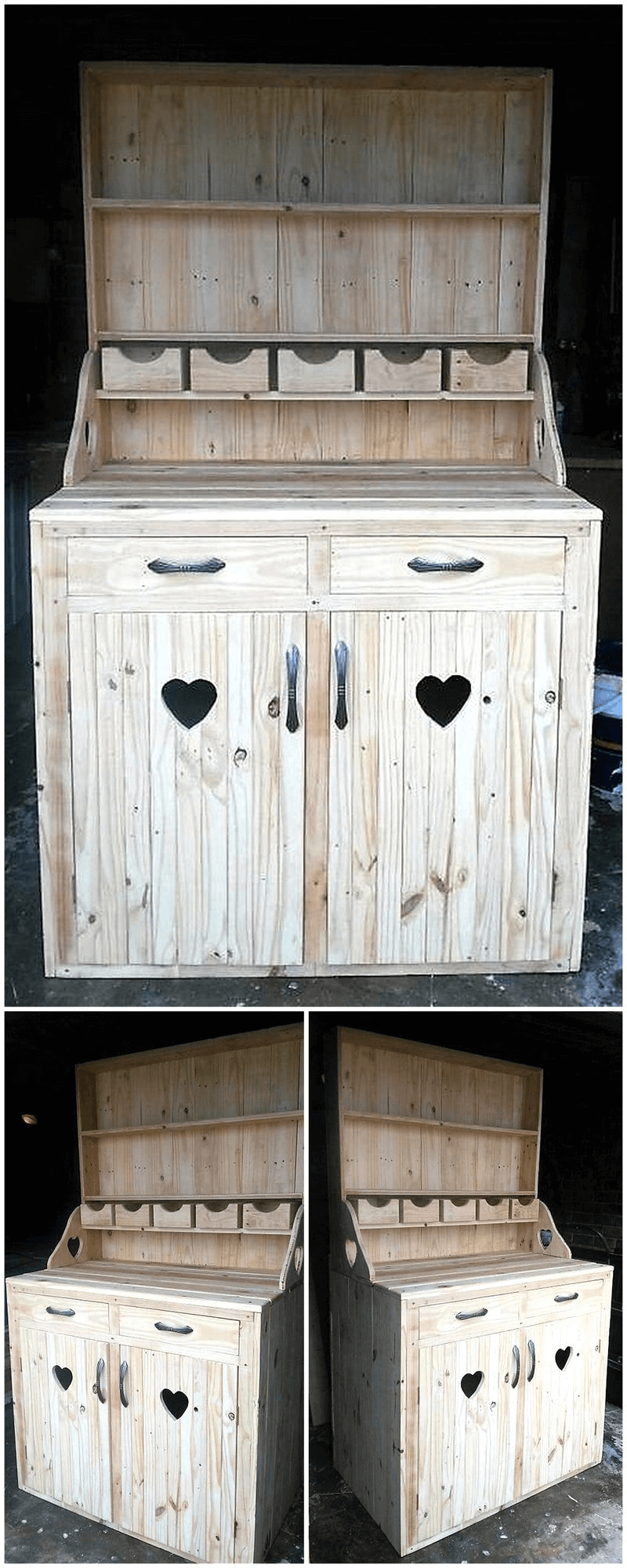 Renovate your bathroom, bedroom and other areas at home with this unique and eye-catching pallets mirror plan. This plan will provide you a different-looking mirror construction for your place. And the most wonderful thing is that you can craft it your own with recycled wood pallets.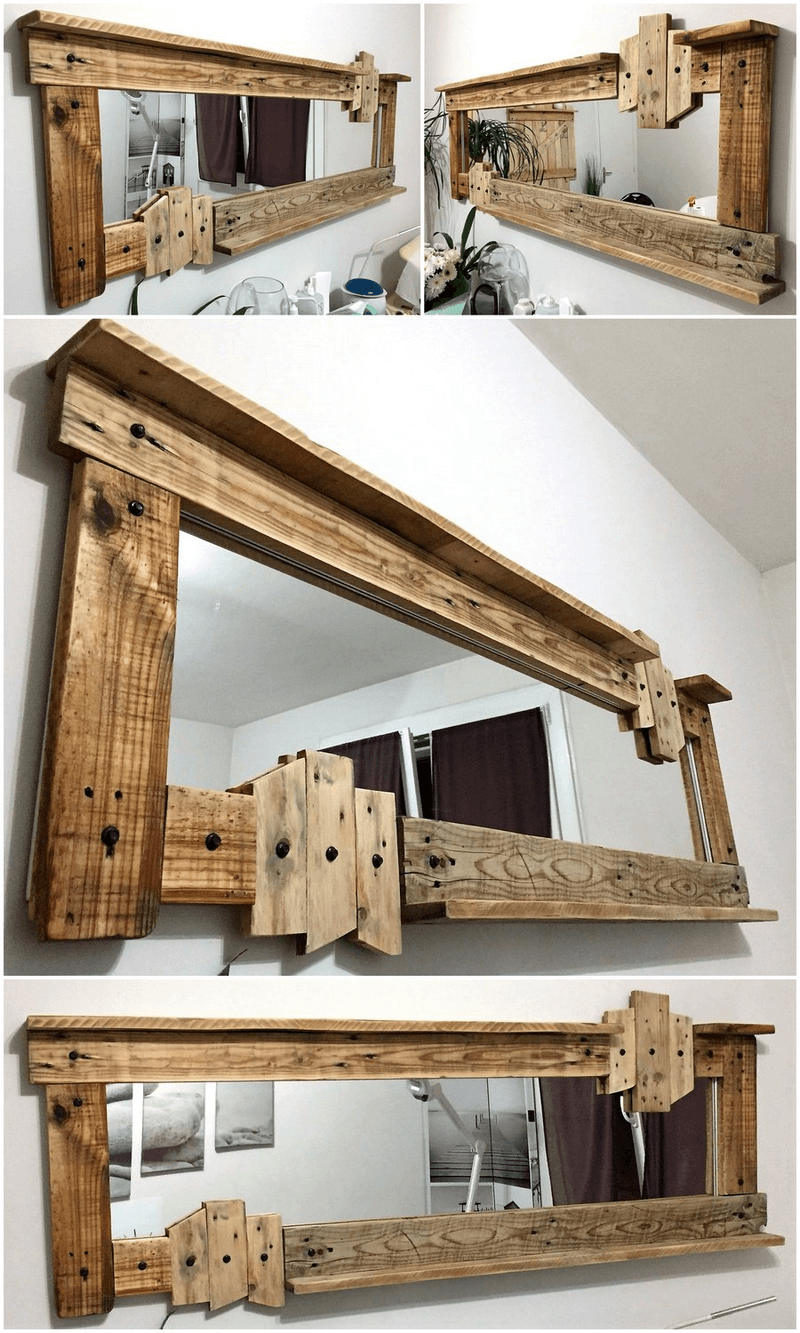 Are you fed up of having the same and ordinary looking wardrobe at your home? If yes, than we have a great solution to these issue. Let's craft pallets wooden wardrobe to decorate your room with something wonderful and different and at the same time to fulfill your wardrobe requirements.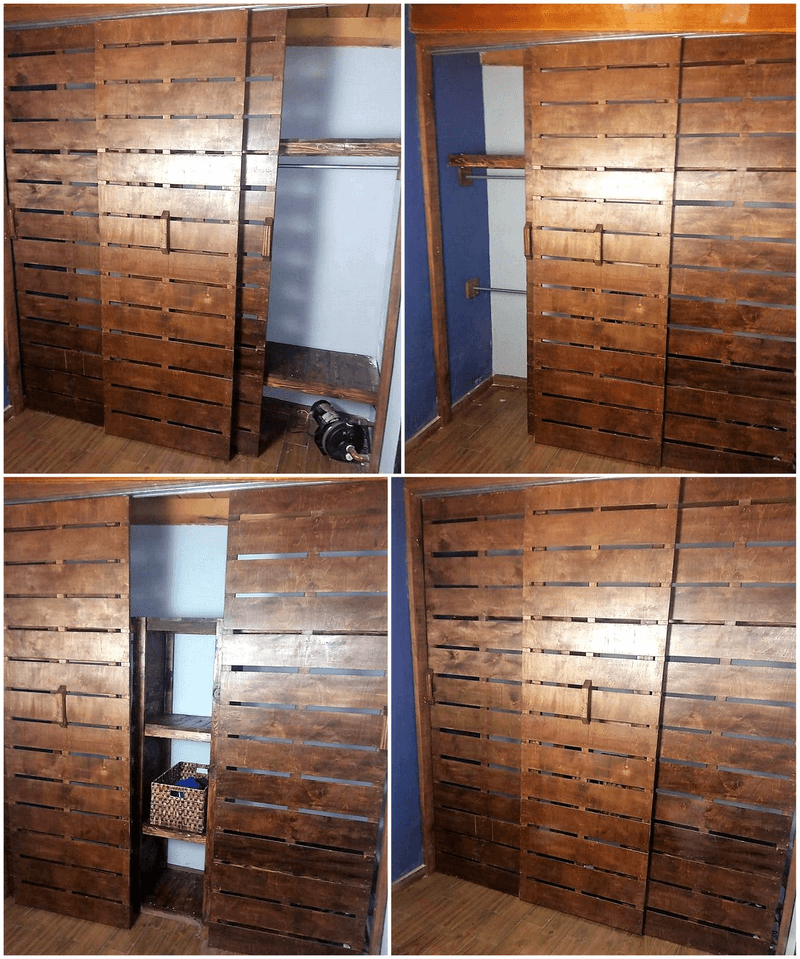 This pallets wall media console is another fabulous pallet project. It can be easily crafted in a day. Few basic crafting tools are required to create this stunning wood furniture item such as glue gun, drill machine, and nails etc. This pallets wood project will definitely re-transform your place with great wooden construction in your home.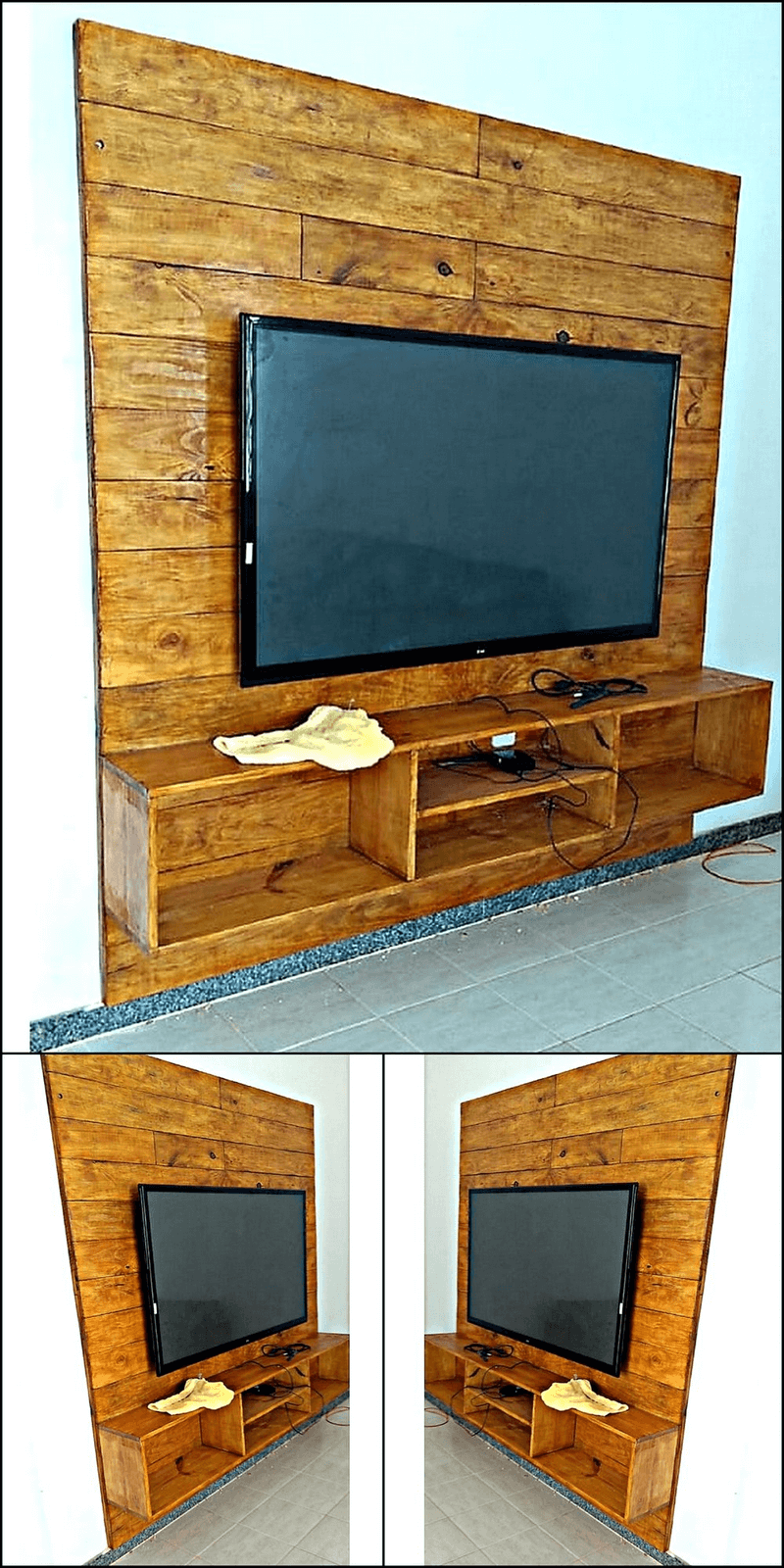 Reshape your outdoor with this wonderful wood pallet creation. This giant pallet plus cable reel bench is composed to provide you maximum piece of mind and comfort in your garden, and outdoor area. You can easily craft this wood pallet idea in low-price.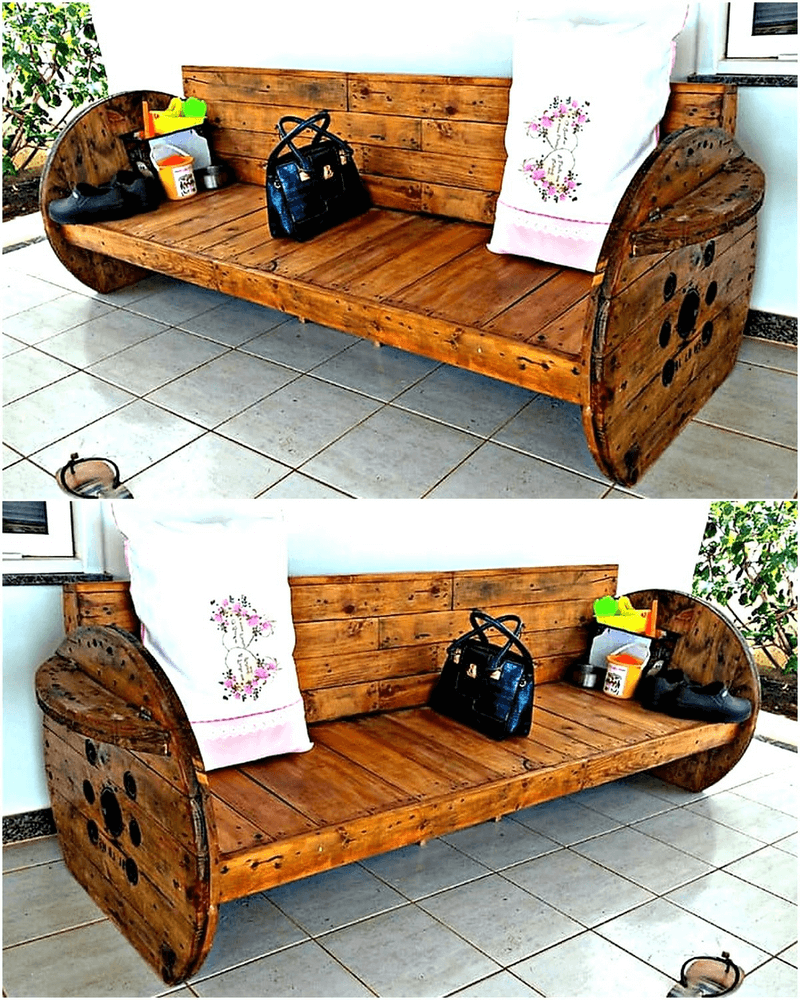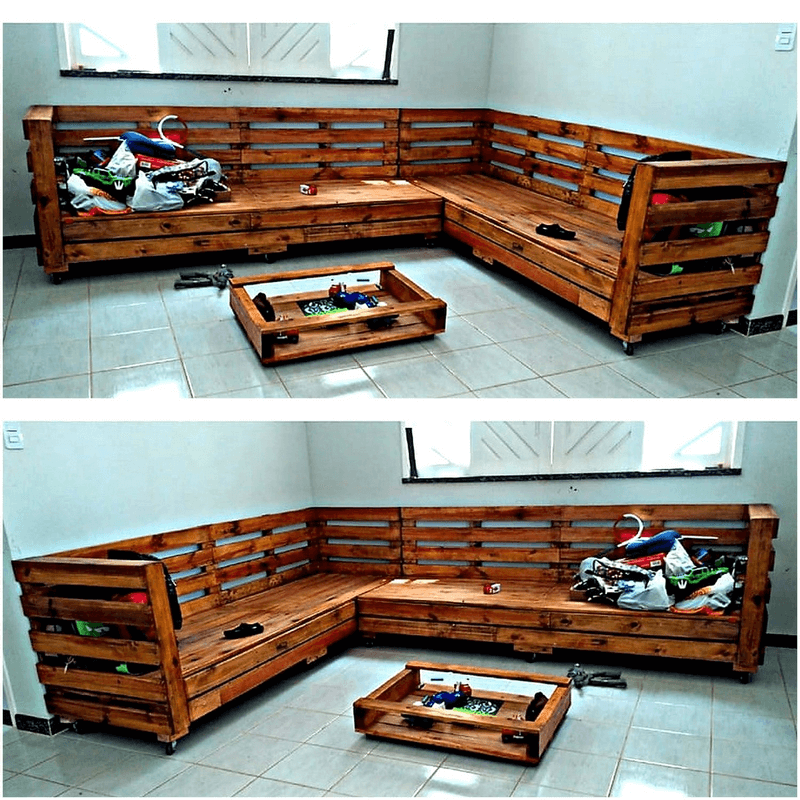 This wooden made pallet kitchen cabinet is a way to enhance the beauty of your kitchen with its rustic appearance and product you ample area for storing different utensils in one place. You can store everything in this pallets wood kitchen cabinet. This kitchen cabinet has three layers of cabins in the upper portion and three layers of cabins in a lower portion.