Awesome Design Ideas for Wood Pallets Bathroom Vanity
Using recycled wood pallets to make a bathroom vanity is a great way to create a unique and eco-friendly piece of furniture. Using wooden pallets to create a bathroom vanity can offer a variety of design possibilities.
Here are some ideas to inspire you:
Rustic and natural: Embrace the natural beauty of the wood and create a rustic look with a simple design that highlights the texture and patterns of the wood. Keep the color natural or lightly stain the wood for a warmer look.
Industrial chic: Combine the rustic charm of the wood with metal accents, such as pipe legs or drawer pulls, to create an industrial chic look. This can add a unique flair to a modern bathroom.
Colorful and eclectic: Paint the wood in a bright color, like blue or green, to add a pop of color to your bathroom. You can also mix and match different wood finishes and colors for an eclectic look.
Farmhouse style: Create a farmhouse-inspired vanity by using distressed wood and vintage-inspired hardware. This can add a cozy and welcoming touch to your bathroom.
Minimalist design: Create a simple and minimalist vanity by using clean lines and a neutral color palette. This can add a sense of calm and serenity to your bathroom.
Double vanity: Use two wooden pallets to create a double vanity that offers ample storage and counter space. This can be a great option for a shared bathroom.
Open shelving: Use pallet wood to create open shelves that offer storage and display space. This can be a great option for a smaller bathroom, as it can create the illusion of more space.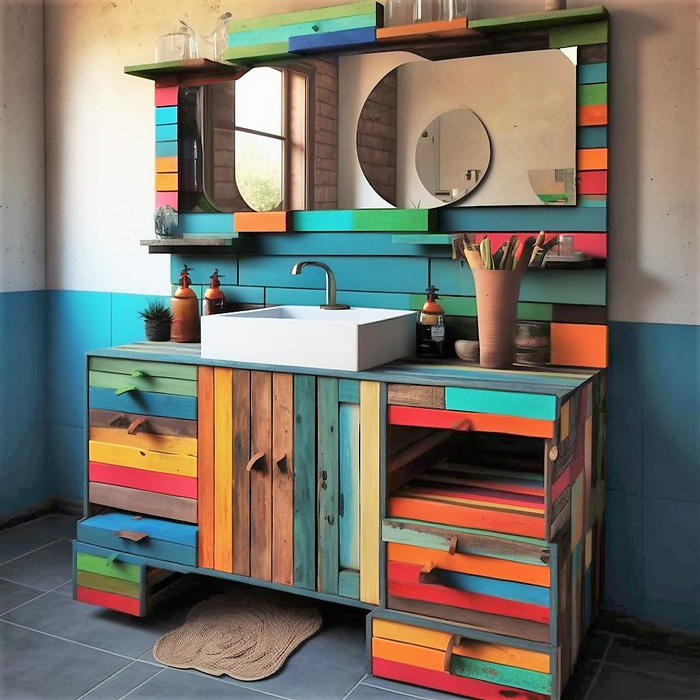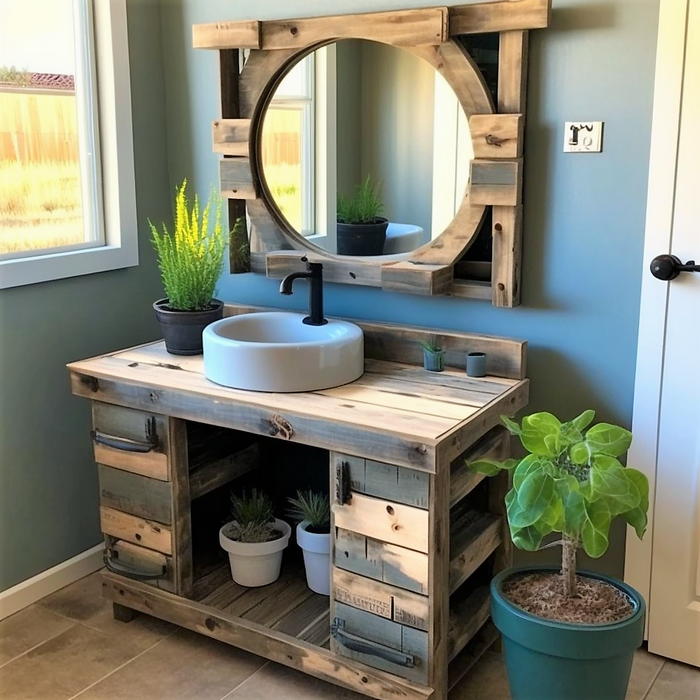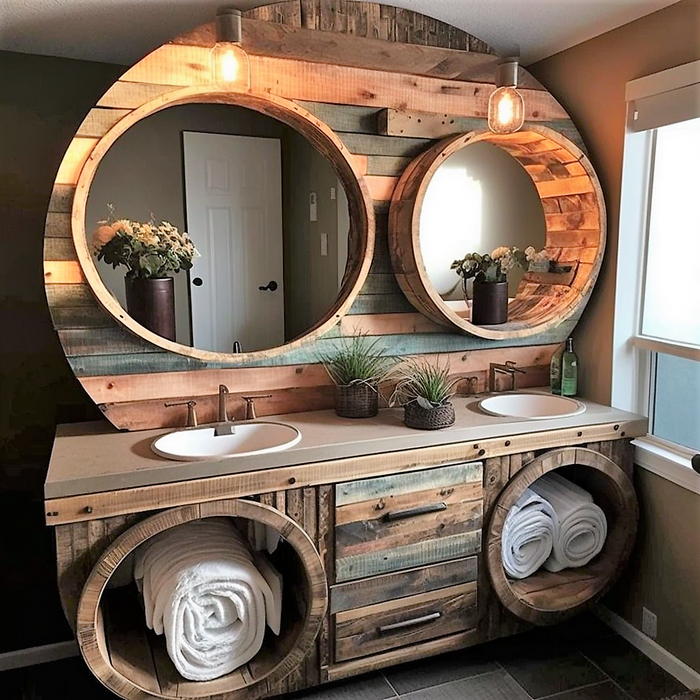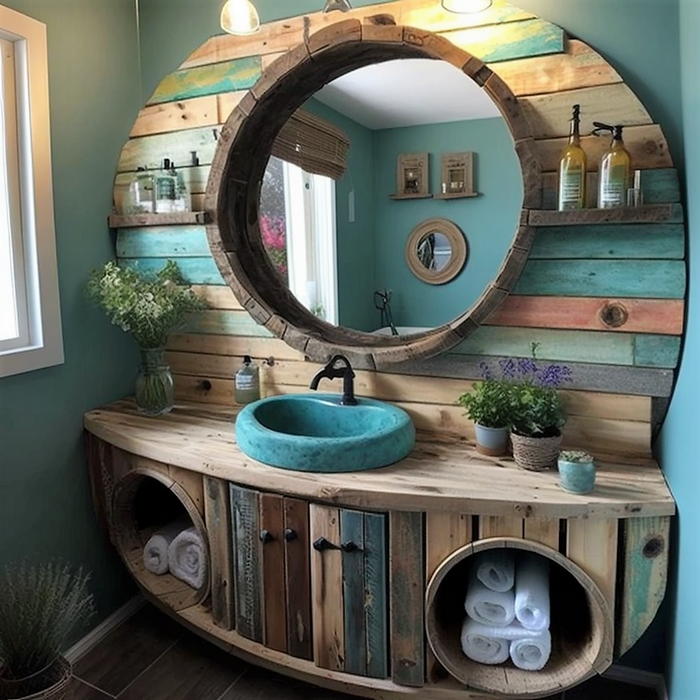 Here are the steps you can follow to create your own recycled wood pallets bathroom vanity:
Find the pallets: Start by sourcing pallets that are clean and in good condition. You can usually find pallets for free at construction sites, warehouses, or online marketplaces.
Disassemble the pallets: Use a hammer and pry bar to carefully take apart the pallets. Be sure to remove any nails or screws from the wood.
Cut the wood: Use a circular saw to cut the wood into the desired lengths and sizes for your vanity. You will need to cut pieces for the sides, top, bottom, and shelves of the vanity.
Sand the wood: Once you have cut the wood pieces, use a sander to smooth out any rough edges or surfaces. Sanding will also help to remove any dirt or debris from the wood.
Assemble the vanity: Use wood glue and clamps to attach the pieces of wood together to form the vanity frame. Once the frame is complete, you can add shelves and any other details, such as a backsplash or drawer pulls.
Finish the vanity: Apply a clear coat of polyurethane to protect the wood and give it a polished look. You can also paint or stain the vanity if you prefer a different color.
Install the vanity: Finally, install the vanity in your bathroom using screws and wall anchors. Be sure to measure carefully to ensure that the vanity is level and properly secured to the wall.
Creating a recycled wood pallets bathroom vanity is a fun and rewarding DIY project that can add character and charm to your bathroom while also helping to reduce waste.