Awesome DIY Ways to Recycle Old Wooden Pallets
Are you planning to renovate your home, for an event or any gathering? And have a desire to amaze your guest and visitors with the breath-taking beauty of your place, then be creative and craft these recycled wood pallet ideas for your home's decoration. It's time to use your crafting talent and make your place exceptional one with your own wonderful creations. These pallet innovations will refurbish your home according to latest furnishing trends and surprise everyone with your decorating sense and taste. Looking around on this pallet wood site, you will find many useful, attractive and inspiring creations for your places and you can easily make a use of your wasted pallet material in the creation of these delightful DIY pallet plans.
Nothing can beat or compete with the wooden pallet made items. And especially when it comes to the creation of recycled wooden pallet planter art with the useless and old shipping pallet of your home. This innovation is quite attractive to make a part of your garden area to give your garden atmosphere a feel of nature.
The complete designing of this reused wooden pallet Playhouse has been finished with the simple flavors of old wooden pallet slats over it. The most thought-provoking fact about this pallet craft is that it has everything that a person desires to have in his kid's playhouse or in his garden cabin room.
What an attractive and creative wood pallet chest bench is this, the entire creation of this chest bench is made with the help of reused wooden pallet stacks and boards. This project will able you to sit on a comfortable wooden structure and at the same time, will make you able to store a large number of useful items in it.
Greenery always appears appealing to eyes, and green plants are the only source that provides us oxygen to breathe, so it's a time to show your attention toward your eco-system with your craft. Let's craft these wooden pallet planter boxes for your garden and outdoor area that will able you to grow more plants in a recycled material of your place.
A kitchen of anyone's home always remains an important area, so it's decoration and refurbishing is also an important task to be done. This wooden pallet kitchen is all created with the planks slots arrangement in different variations that appears perfect for completion. This pallet kitchen is all comprised of many drawers and cabinets in it.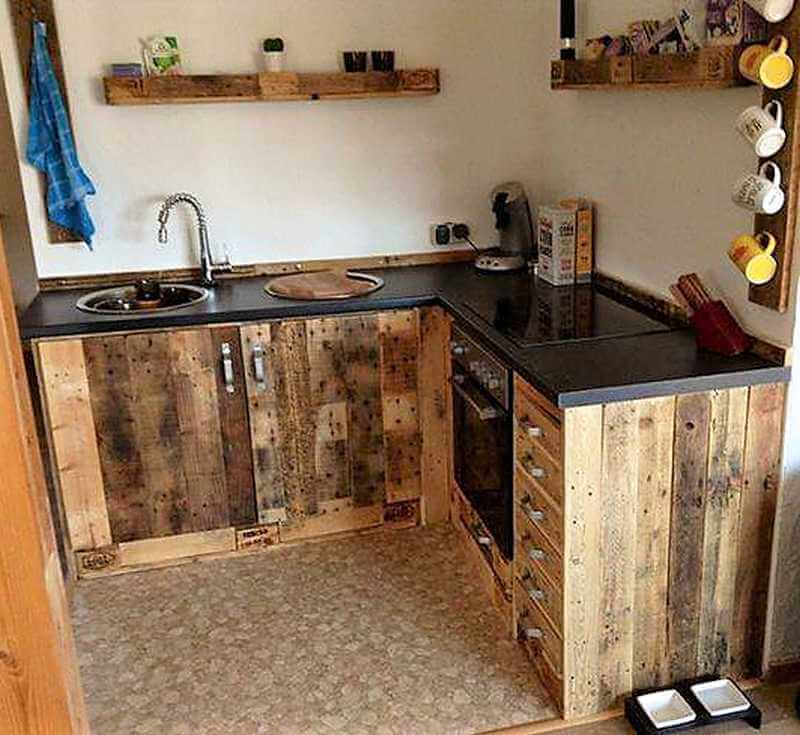 This is another thought-provoking creation made by the smart reshaping of upcycled wood pallet boards. This pallet planter art seems modern as well as stylish as shown in the image. It's time to make them a part of your garden to give your place a luxurious look with this attractive pallet innovation.
Have a look at the charming appearance of this pallet garden dining set. This structure seems beautiful and appealing to eyes for the first sight as shown in the plan given below. This craft will able you to sit in a fresh environment and you can also enjoy your every meal while sitting on your own crafted wooden product.
Designing the pallet dog houses with the recycled wood pallet use in it has always stood out an amazing option because it is durable as well as cheap in cost. These dog houses are completed with the artistic arrangement of useless wooden pallet planks. The below given picture is the best description of freedom of craft that you can easily change the size of your dog house as according to your needs.
If you are looking to add a marvelous material of reused wooden pallet in your lounge decoration then this pallet sofa side table in original wooden texture appears perfect item. This craft will make you able to show your hidden skills with its thought-provoking creation. You can easily place many decorating items on it.
Garden's  planter stand always seems to be perfect when they are made of the durable material of old shipping pallet boards. This planter stand craft is done with many innovative and modish variations. This planter seems best to plants your different herbs and colorful flowers in it.
You can make an elegant use of wood pallet present in your home in the form of wood pallet kids bed. This attractive pallet innovation seems much delightful in brown color paint shade. This is an amazing piece of artwork that will for sure renovate your home with its charming appearance.

Among so many designs and projects of a wood pallet, this awesome wood pallet pots stand always remain on top of the list. This pot stand is created with the unique transformation and reshaping of useless wooden pallet planks. This is a multipurpose pallet plan in which you can also grow your plants and herbs in a vertical pattern.

A custom image tutorial of recycled pallets cupboard design work has been crafted out for your ease and comfort at your place. This cupboard artwork with many square shaped storage blocks and wooden cabinets appears best to meet all types of storage and decoration requirements of a lounge area with it.
Let's check out the second image of wooden pallet ideas. This repurposed pallet bar is smartly created with the dramatical arrangement and placement of reused wooden pallet slats. The further decoration is made with dark and shinnies brown color paint. This giant bar counter appears much spacious for the placement of different bar items in it.
The kitchen is the most important part of every home. To give this important part a delightful appearance as well as to renovate this place with a durable furniture it always appears best to reshape the wooden pallet stacks and planks. This pallet rustic kitchen idea seems great to meet your kitchen furniture needs with an eco-friendly activity of recycling.
There is no doubt in it that you will for sure fall in love with this stunning wood pallet bunk bed. This dramatically crafted pallet wood bed will refurbish your kid's room and will provide you a great sense of satisfaction with your own crafted pallet project. The large wooden drawers are smartly created for the placement of bedding clothes and blankets in it.
In this modern age, kids are also much relevant with the latest innovation and always love to have new and modern looking toys and playing items at their place. So let's surprise them with this awesome wood pallets kids play truck. Your beloved kids will definitely love this beautiful and cheap pallet craft.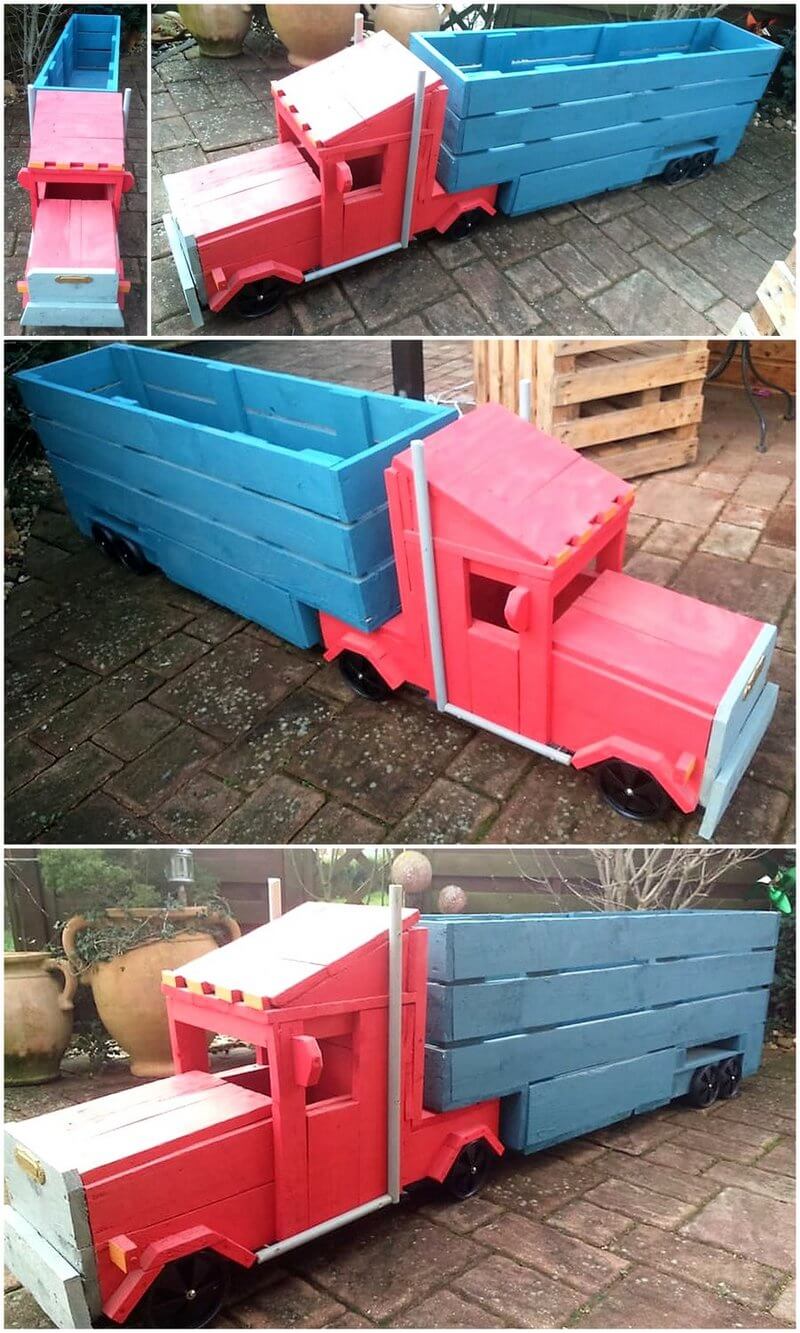 Want to dress up properly for your parties and gathering, so looking for a perfect wood pallet dresser table, then this piece of artwork is specially designed for you. This pallet dresser table is comprised of three wooden door cabinets and the upper headboard is meant to place a large mirror on it.
Wooden closet always remain the basic need of every home. It does not matter that for which area of your house you want this because this reused pallets made closet seems perfect to locate in your bedroom, lounge, guest room as well as in your kitchen area. This simple creation can also be a craft for selling purpose.
Here we are introducing a stunning DIY wood pallet wall cladding plan for enhancing the beauty of your lounge area. This wall cladding is not only meant for the decoration purpose but you can also attach your LED on it to fulfill your tv stand needs with it.
This is quite innovative repurposed wooden pallet kitchen plan. This wooden kitchen furniture item is all comprised of the durable finishing taste of recycled wood pallet all over it. This unique structure seems best to meet all types of kitchen requirements and also for increasing the beauty of your cooking area.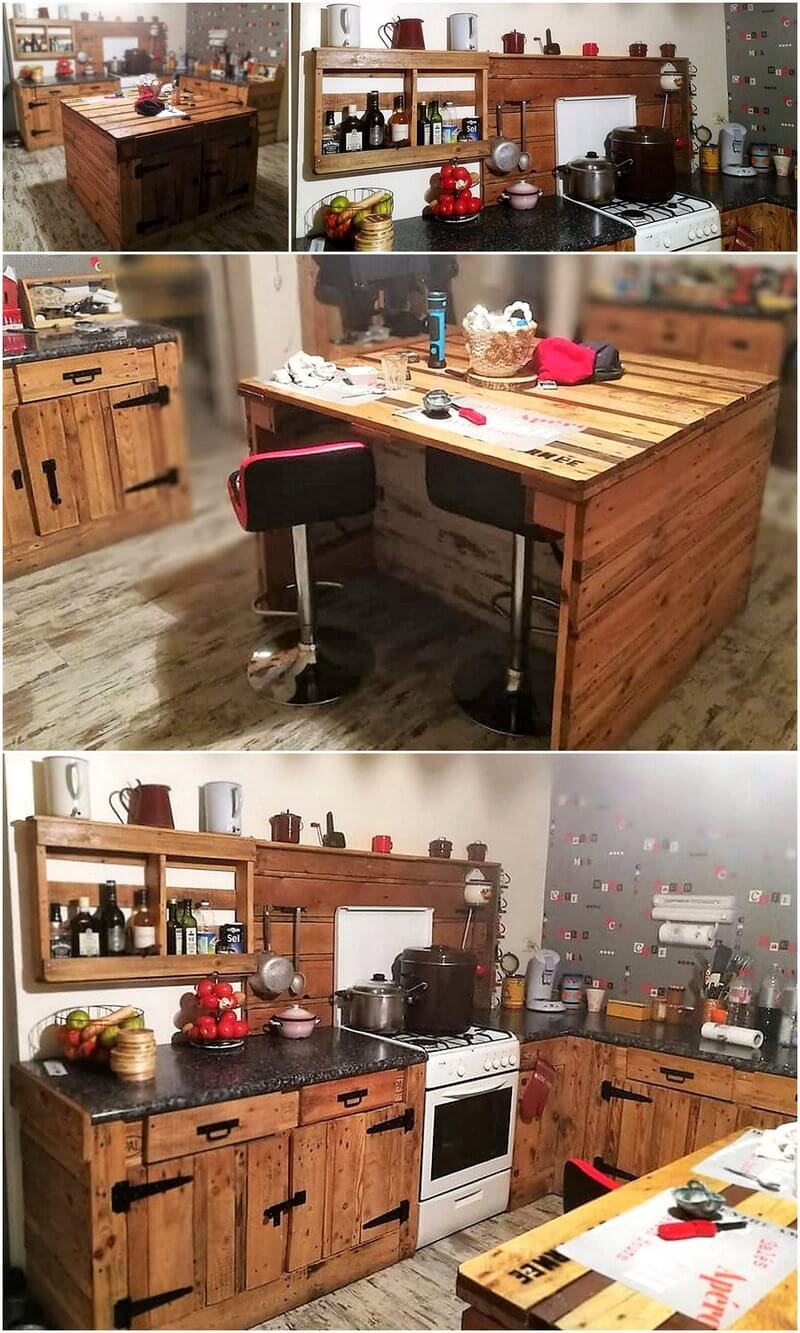 Now dismantle the old shipping pallet planks and smartly arrange them in vertical and horizontal positions to complete this thought-provoking DIY wooden pallets deck plan. The image is given below shows that we have artistically presented a delightful deck plan that is durable as well as beautiful in appearance.
The reused wood pallet is one of such material that is mostly used for home's furnishing. This time we have designed a wood pallet made creative pallet bed headboard art for you. This is the best headboard design that you can easily craft to give your simple wooden bed a luxurious look.
An artistic piece of wood pallet engine for kids play is given in the image below. This whole idea manufacturing of this pallet plan is done with the dramatical arrangement of old and wasted shipping pallet planks of our place. This multipurpose project appears stunning for increasing the grace of your outdoor and garden area.
Take this awesome design of kids playhouse out of wood pallets for providing your kid's the best playing structure in their own garden area. This is simple yet unique wooden pallet plan but it also comprises an additional blend of colorful hues works on this recycled pallet project.
This superb design of recycled pallets made bar is one of the most feasible items to build with the use of reclaimed wooden pallets. This bar counter with five wooden stools seems wonderful to meet the home's bar structure needs as well as best for your bar shops and clubs.
Custom designed arrangement of recycled wooden pallet slats have been put inside it which has ended in the perfect finishing of pallets made bathroom wall art. This wooden wall art with things storage space seems wonderful for decoration as well as bathroom accessories placement.
This unique creation of upcycled wood pallet is some sort of the furniture structure that is brilliantly set on top of one another. This DIY pallets wooden rustic entryway table idea seems best to locate in your kitchen area as well as in your lounge to meet all storage needs and requirements with this rustic looking table plan.

Now, this is what we called beauty and elegance, this pallet patio decor art appears much attractive for decorating the corners of your home with a unique recycled wood pallet creation. The organic wooden texture of this plan seems thought-provoking and eye-catcher for the first sight as shown in the picture given below.
Using the upcycled wooden pallets in the creation of this pallets made rustic closet is an amazing idea. This large-size two door closet seems best for meeting the storage needs in an economical way. We have made this closet more appealing in look after decorating it with beautiful paint shades.
The reclaimed wooden pallet has a high demand in the creation DIY pallets shelf rack. This smartly created pallet wood plan with four wooden layers and in white shade seems much unique for increasing the beauty of your place after placing different decorating items on it.
In this image, we are going to introduce you a fascinating wood pallet wall pots stand art with an infusion of dark-brown color paint on it. This entire creation is simply done by reshaping the old and useless pallet planks in a unique and delightful way.
Let's check out the finest designing of wooden pallet creation. The wood pallet can not only be used for small furniture items but also best material for home's furnishing. This wood pallet bed with storage drawers appears sturdy and durable to relax on it and the storage drawers will for sure provide you a great storage space in your place.
How attractively the wood pallet made patio cabin work has been done here that is shaded at the best with the reclaimed wood pallet right into it. This cabin project is artistically completed with the horizontal and vertical arrangement of pallet planks and with the construction of door, this project can be easily used for many purposes.
Let's present you with a marvelous creation of recycled wooden pallet planks that smartly turn and reshape into this terrace furniture out of pallet wood. These two patio pallet benches with a seating place of three persons on each and a giant table structure seem great to renovate your terrace and garden area.
Well, this is some sort of innovative as well as the creative idea of pallet patio cabin project that is best for your outdoor usage. This project is wonderfully designed to provide you an awesome creation at cheap rates. Now you can easily use this cabin as checking point cabin in different shopping places.
Here we would add up the list of thought-provoking pallet product with the addition of pallet wooden table idea. This table is artistically created to serve your with a multipurpose wooden product as you can easily use this pallet made the table as a dining as well as a simple wooden table in your place.
Do you want to give your kitchen an attractive and magnificent look, if yes then for what you are waiting for? This small shelf for the kitchen is the best idea to install beautiful wooden pallet in your kitchen. The entire creation of the shelf has been done in a majestic form of an impression.

This image will show you out the attractive innovation made by recycling the wasted pallet wood boards. This reused wood pallet bar plan with pallet made furniture items appears best to start your own bar shop and also a perfect plan to create in your outdoor and garden area to have a complete bar area in your house.
Placing this recycled pallet shelf rack has always remained the basic need of house bedrooms, kitchen, and bathroom areas. You can easily craft this shelf rack for your home with the dramatic arrangement of useless wood pallet planks. This three-layer rack seems spacious enough for the placement of different useful items on it.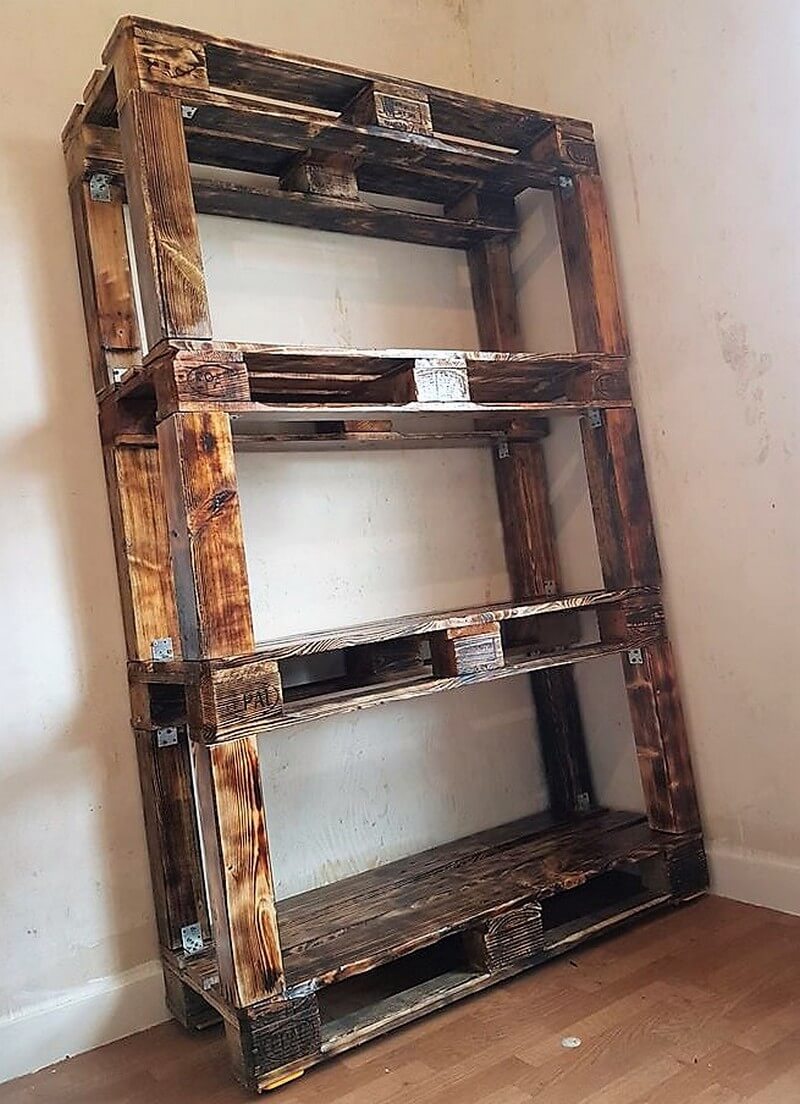 Now give you lounge or living room an amazing look with the custom designing pallet project of the rustic pallet Wash Basin. This pallet plan seems much attractive looking with the fabulous woodwork and with the stylish construction of pallet cabinets, shelves, and drawers in it.
Yet a different but unique looking pallet cupboard plan is here for you. This modern and trendy pallet cupboard with top glass door, wooden drawer, and two-door cabinet appears best to fulfill your storage needs at your place in an economical way. Use the extra pallet planks present at your home to create this magnificent creation.
Such an amazing and useful pallet kitchen plan that we have smartly designed for your ease in your cooking area. This pallet innovation is a wonderful example that how you can reshape the extra boards of pallet wood of your place in an attractive useful project. This pallet plan is giving out an amazing impression taste of storage spacing too.
If you are looking to give your simple wall an extraordinary look by crafting a delightful pallet plan on your own, then this awesome DIY wood pallet wall art is so simple to craft with little concentration and hard work. This is an ideal plan to give your room a royal appearance.
Elegant designing of this pallet entryway rustic creation is eye-catcher. This project not only seems graceful in pure and original wooden texture but also this is a multipurpose project that you can also use as a pallet wood tv stand or media console in your lounge.
This image will give a perfect idea of reshaping and retransforming the recycled wood pallet of your home. This wood pallet dressing room with many wooden drawers, cabinets and shelving racks seems best to place in any bedroom of your home.
This is the beautiful creation of old wasted pallet that we have smartly shape in a thought-provoking reused pallets made kids playhouse. This is the complete wooden playing structure. You can also use a different paint shade that suits the mood of your lovely child.
This wood pallet lovely mud kitchen design is the creative artwork where the brilliance designing and simplicity is at its peak. This is the best creation to amaze your lovely kid's with your own crafted pallet plan. The wonderful-looking kitchen items are making this plan an awesome one.
If you want to renovate your garden area in a cheaper cost and also desires to decorate your place by amazing everyone, then this modern pallet wood garden collection is specially presented for you. We have artistically designed this furniture set for your maximum comfort in your garden.
Are you looking for a best wooden structure for the security and shelter of your lovely pet, then this modern innovation is crafted with the help of old and wasted wood pallet boards. This pallets dog house with food bowls appears stunning after the decoration is made with red color paint.
Don't make the useless wood pallet stacks of your home to be a part of your garbage, and retransform them to create this exception reused wood pallets kitchen work. This project can be easily designed in a day with the smart and vertical placement of wood pallet stacks.
Check out this memorizing plan made by reshaping the reused wood pallet of our place. This is an awesome creation to add beauty to your home. This wooden table appears gorgeous in original wooden texture but if you are looking to place it in your lounge, you can also decorate it with a bright color paint shade.